 Type: Retail
Total Round Size (min): AUD$500,000
Total Round Size (max): AUD$1,200,000
Price per share: AUD$1
Higher State Co.
Higher State Co. is the parent company of Monday Distillery (premium, non-alcoholic RTD cocktails) and Lunae Sparkling (functional beverage brand).
NOTE: Higher State Co. is raising funds for the growth and expansion of the Monday Distillery brand.
Fees Paid by Issuer

: 6.0% of funds raise

Cooling-Off Rights

: 5 working days

Minimum Parcel Size

: $250
What is Higher State Co?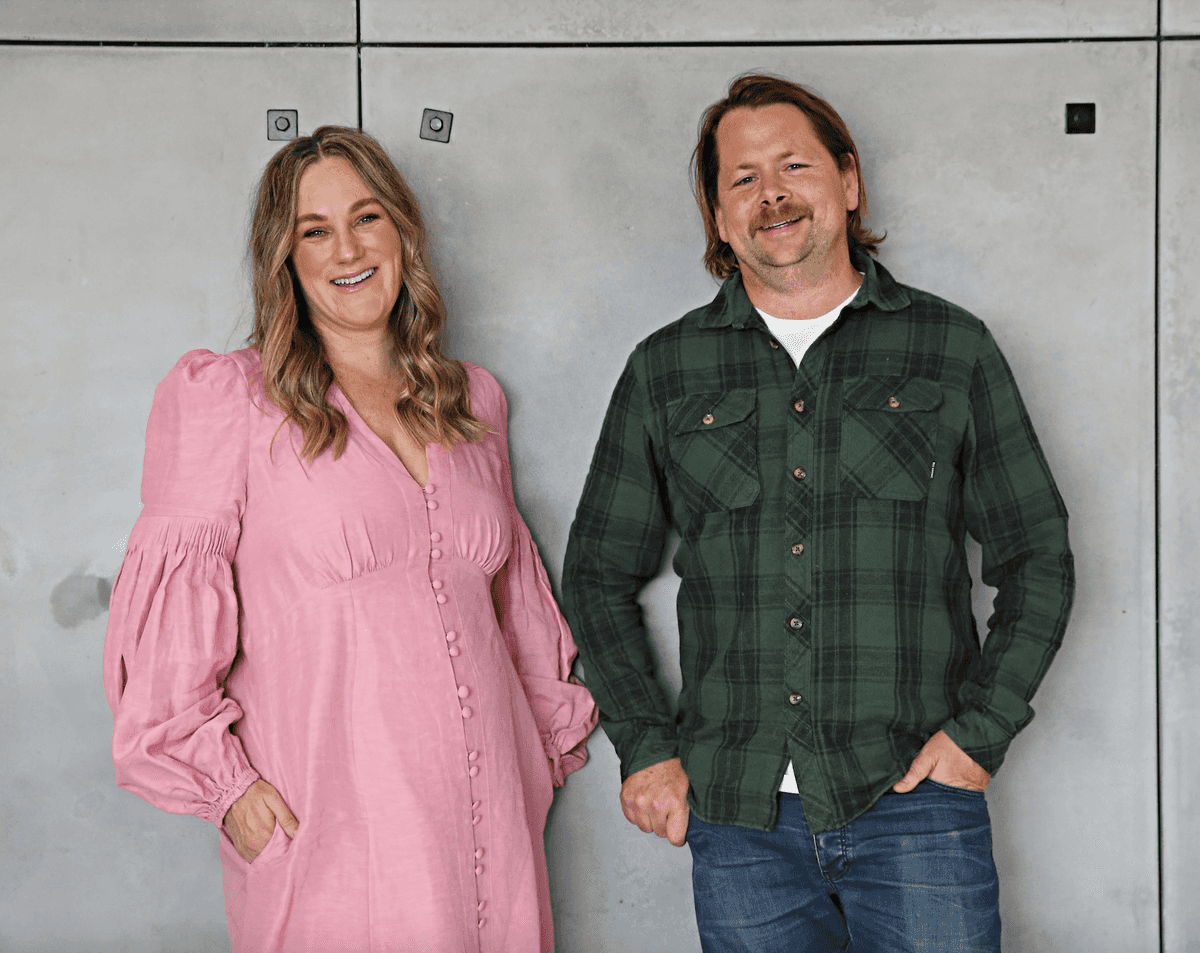 When Higher State Co. founder, Samantha Manning, saw her functional beverage brand, the  crystal-infused sparkling water, Lunae Sparkling ("Lunae"), being used as a substitute for alcohol by many, ideas bubbled up for another beverage-related venture. So in 2019, Sam launched her second brand, Monday Distillery ("Monday"), which was the first Australian owned and operated non-alcoholic RTD ('ready-to-drink') cocktail range in the market. Thus today, the Company consists of two brands:
Monday Distillery (82% of FY22 sales): Range of premium, non-alcoholic, sugar-free, ready-to-drink beverages (RTDs), infused with distilled botanicals. 
Lunae Sparkling (18% of FY22 sales): The world's first functional beverage pairing botanicals with crystal frequency. Completely sugar & sweetener-free, it resonates with those bringing mindfulness and self care into their daily ritual.
The Group has a strong emphasis on innovation and new product development. Both brands use only the highest ingredients derived from steam distilled plant extraction. This process delivers an intense flavour experience from botanicals, fruits, herbs and bark compounds.
The Group prides itself on being sugar-free after developing their own proprietary sweetener from only the highest quality compounds from the stevia plant. This formulation is focused on providing sweetness in our beverages without the unpleasant aftertaste known from artificial sugar-free ingredients such as erythritol and xylitol. Monday's range is also free from added glycerin and thickeners commonly used in the non-alcoholic drink industry as a way of mimicking the body of alcohol.
For Monday, this innovation is based on the belief that a great non-alcoholic drink is one that has all of the elements of a great alcoholic one.  First and foremost, Monday delivers on taste and experience. Monday is a premium, ready-to-drink cocktail range with all the components that make a drink feel balanced and harmonious. Acidic and Sweet. Botanical and bitterness. Monday loves exploring and innovating with trigeminal sensations which are found commonly in alcohol.
By revolutionising the way people look at a night out with friends, Monday delivers what people taking a break from alcohol or those going through periods such as "Dry July" need, a refreshing carbonated drink, with premium flavours that everyone wants to try. A few RTDs from their core range include gin (Classic G&T, Exotic Spice G&T), rum (Dark & Stormy), whiskey (Dram & Dry) and tequila (Paloma).
Both brands have proved a hit with their customer base. Lunae has over 22,800 followers on Instagram, with organic growth evident on Facebook and Pinterest. Monday has created a community of 15,000+ followers across all of their social media platforms. Across the country, news coverage has accelerated their marketing efforts, with over 62 pieces about Monday published, including Body+Soul, The Australian, Smart Company and many more.
The Group is seeing huge financial growth. In FY22, Monday generated revenue of $1.7m (growing at 90% CAGR over the last 3 years), forecasted to hit $10m in FY24.
Sam is now joined by her husband, Haydn Farley. Together, they run the Monday distillery's operations from Port Fairy (marketing and Head Office), while all manufacturing & warehousing is Geelong based. They distribute through 1500 major retailers across Australia, including Endeavor (Dan Murphy's), On the Run, Coles Local, Sans Drinks and many more independents. 
Investment Highlights
Exceptional traction and growth across all channels

Since inception, Monday has achieved 90% CAGR, forecasted to hit revenue of $5.5m in FY23 and is set to reach $10m by FY24 and $20.7m by FY25. This multi-channel, above-market growth can be attributed to their strong customer loyalty and success in winning key distribution channels. Similarly, in the first two years since launching in 2018-19, Lunae's online store achieved over $325,000 in sales, recording a returning customer rate of 19.46%.

Boom in the NoLo alcohol category (growing at +14% CAGR to 2025)

The NoLo category is seeing a huge increase in demand from non-drinkers as well as traditional drinkers opting for NoLo alternatives on select occasions, accompanied by an overall shift to healthier lifestyles and moderation. The RTD/Spirits category is growing at 14% p.a. to 2025 (versus alcoholic beverages at 0.7%). Australia is one of the fastest growing markets globally, as the NoLo movement complements the health-orientated lifestyle of many Australians, and provides more occasions to enjoy NoLo beverages.

A premium offering in line with the premiumisation of the drink market

During COVID-19 lockdowns, consumers shifted to appreciate at-home indulgences, through the purchase of premium drinks. Monday captures this trend, taking inspiration from classic cocktails to carefully select unique flavour profiles. By taking locally-sourced springwater, distilled botanicals bring out their flavour-filled essence with every sip.

Loyal communities around both brands

Monday has built a loyal community of over 15,000 social media followers across Instagram and Facebook, all brought together by the love of premium non-alcoholic drinks.

Similarly, Lunae has over 22,800 followers on Instagram, with organic growth on Facebook and Pinterest. It is also catching the eye of Gywneth Palthrow's Goop brand, as Lunae drinks are offered as a part of their 2019 Health Summit.

Embarking on a step change in growth

Monday is actively distributing through 1,500 major grocery stores and retailers such as Dan Murphys, OTR, Coles local (also including 7-Eleven & Harris Farm who are onboarding). They are already looking to close deals with other major retailers in the coming months. They are raising funds to service these opportunities.

Attractive market for investment

Given the high growth in this market, the NoLo space has seen lots of investment from PE and VC firms, with brands such as Lyre's raising hundreds of millions of dollars from global VCs and venture arms of the drinks giants. The NoLo industry has also seen some early exits, including the sale of Seedlip to Diageo and Keurig Dr Pepper acquiring Atypique.
Product Overview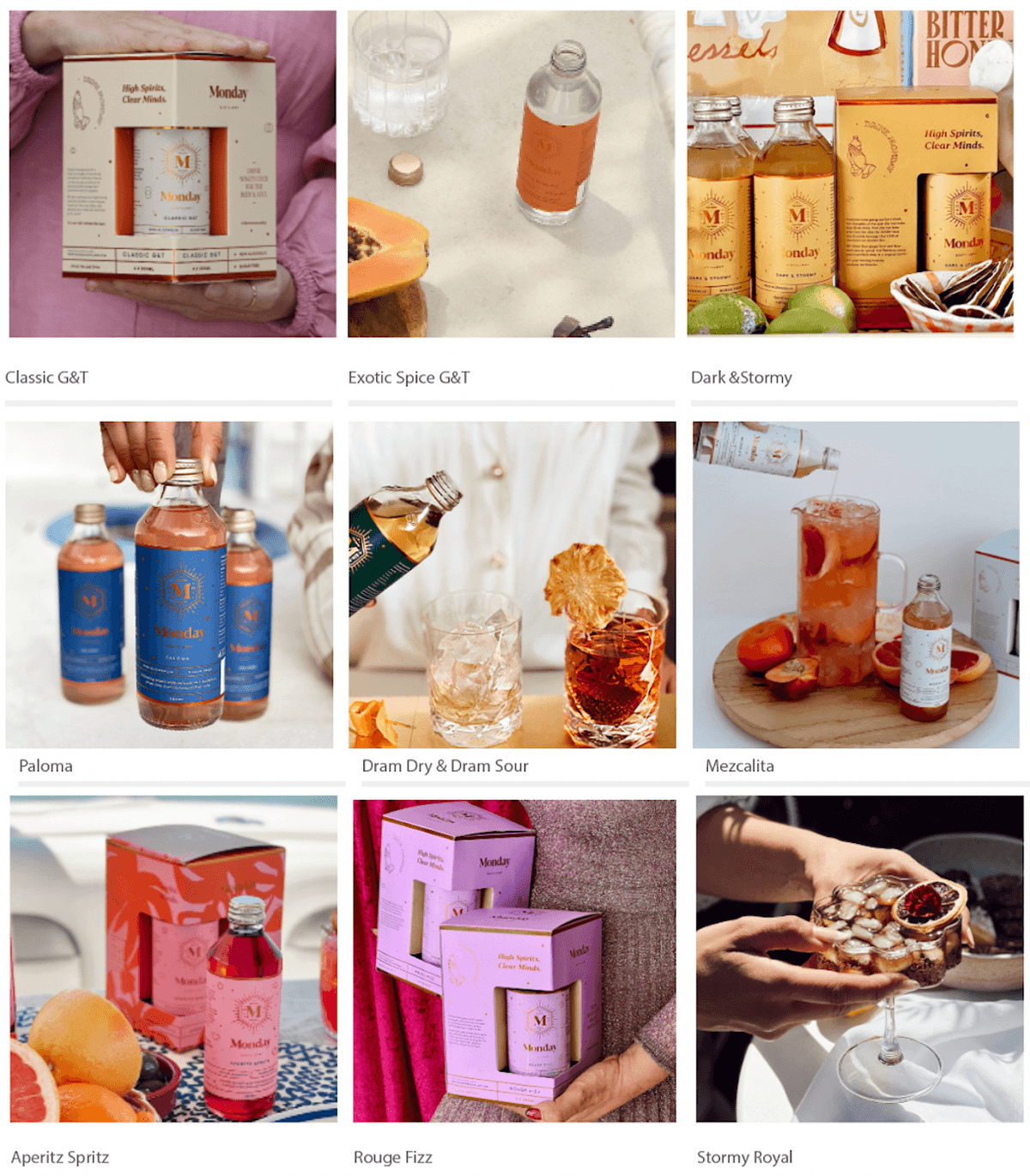 Monday Distillery Product Range
Our Monday Distillery range prides itself on being a premium, alcohol-free, sugar-free RTD. Taking inspiration from classic cocktails, the non-alcoholic spirits created by Monday offer an overall sensory experience to mimic that of its alcohol-containing counterpart. The mouth-feel of each variant is carefully considered. 
The range is sugar-free, and we are working hard to ensure that this does not compromise on the taste. Hence, our product knowledge, exploration, invention and innovation are all housed within a package that is good-to-go.
All Monday Distillery products are:
Refreshing carbonated taste 
Non-alcoholic
Preservative, sugar and gluten free
No artificial additives or flavours 
Naturally sweetened with stevia.
Low calorie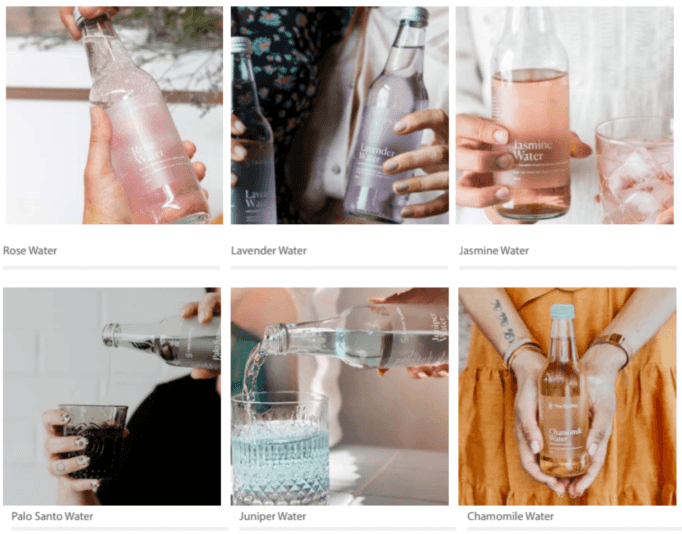 Lunae Sparkling Product Range
The Lunae Sparkling drink range includes different types of crystals paired with botanicals to help compliment the intended positive effects of each crystal elixir. The botanicals we use add taste to Lunae Sparkling drinks and have known health benefits. Furthermore, people have been making crystal water for centuries to help bring positive energy to both healing and spirituality.     
All products are:
Sugar-free
Non-Alcoholic
Gluten-free
Cruelty-free
Full of Beauty 
Core Business Model
Monday Distillery
Monday Distillery's ('Monday') core business model is the production and distribution of a range of premium, non-alcoholic drinks, to their loyal and growing customer base, via Online, Grocery, Petrol and Convenience (P&C stores), On Premise and Off Premise channels.
The online channel is executed through a dedicated website (https://mondaydistillery.com/) and packaged sales, either online or in stores such as Dan Murphy's, Woolworths, Coles Local and IGA, as well as through many other local eateries, grocery stores and cafés across Australia. 
Our core operations such as packaging and warehousing are based at our sites in Geelong, however, as Monday's head office is based in Port Fairy, Victoria, operations such as sales and marketing are run from here.
Monday's distribution network comprises of:
Online: Our online, direct-to-consumer (D2C) model allows us to directly service customers online via our website. This channel allows for both one-time purchases and subscription-based purchases, stemming from our customer loyalty. As of FY2022, online sales comprises 30% of total revenue in Australia.
Grocery, P&C Stores, Off Premise: We have signed with 1200+ major retailers across Australia, including Dan Murphy's, IGA, On the Run, Coles Local, Sans Drinks, Blackhearts & Sparrows and many more independents. Monday aims to expand through new distribution channels by continuing our robust pipeline of new customers, including distributing through 7-Eleven & Harris Farm stores from September 2022.
On Premise: Through distributors we are stocked in 300+ venues including bars, cafes and restaurants.
International revenue is just beginning to gain traction, with consistent growth throughout late FY2021. Currently, our main international distributors are in Singapore, Malaysia and Indonesia with discussions currently being held with others in New Zealand, India and UAE.
For Lunae Sparkling's core business model, refer to the Offer Document for Higher State Co above.
Growth Strategy
New Product Development ('NPD')

We foresee growth coming from increasing our flavor options within our current ranges and adding new products, especially as consumers are constantly demanding new flavours. This will maximise our opportunity to cross-sell and up-sell products to become a brand that caters for a variety of different tastes and health needs as well as consumer preferences. NPD for both brands is discussed further in Section 2.6.3 in the Offer Document.

Grow online, D2C channel

We aim to achieve greater revenue through our online website, by reducing our COGS and increasing our sales volume distribution. This will go hand-in-hand with building brand recognition to highlight the value of unique-tasting premium RTDs. Continuing to grow our online marketing strategies will build a strong organic traffic funnel to our site, with greater conversion rates, returning customer rates and customer lifetime value (CLTV). As we transition into becoming a content-driven business, social media platforms will be a key channel to drive this reach.

Expansion through new distribution networks

Monday Distillery is already distributed through 1,500+ major retailers across Australia, including Woolworths, Dan Murphy's, On the Run, Coles Local, Sans Drinks, Blackhearts & Sparrows and many more independents. We have a robust pipeline of new customers, including 7-Eleven from September 2022. Monday aims to continue solidifying their national presence with greater engagement with independent retailers nationwide. 

Pursue international growth

Monday is already selling in Singapore, Malaysia and Indonesia with New Zealand about to launch. Moreover, Lunae is now available for sale in Korea. As we solidify our presence in these markets, we also aim to focus in the UK and European markets. 

US expansion has already begun, as we have partnered with a 3PL service to fulfil online orders on the Faire platform, an online wholesale marketplace. Other engagements in international markets include our recent participation in the International Wine and Spirit Competition (IWSC), a UK-based competition, to establish our brand presence there.
Market Opportunity
Higher State operates across two different but related categories the non-alcoholic drinks industry and the functional beverages (refer to Section 2.8.1 in Offer document for more information).
The Global & Australian Non-Alcohol (NoLo) RTD Landscape
The global NoLo market has reached almost $10bn in value in key markets, and is growing at +8% CAGR to 2025 (versus regular alcohol volume growth of +0.7%). In some markets, such as the US, this is as high as 28% and in Australia, forecasts suggest it will grow by 16% by 2024.
Australia's non-alcoholic drinks market is set to experience +16% volume growth by 2024 (Source: IWSR). More specifically, NoLo RTDs and NoLo spirits are both expected to post about +14% CAGR volume growth. New product development and increasing consumer demand for no/low spirits will see the category experience the largest volume CAGR rate, 2020 to 2024. The NoLo spirits category, which currently has a 0.6% share of the NoLo market, is set to increase in volume consumption largely due to growing concerns about healthy lifestyles amongst consumers. 
The NoLo movement complements the health-orientated lifestyle of many Australians, and provides more occasions to enjoy NoLo beverages. As spirits is one of the fastest growing NoLo markets, Australia continues to present unique opportunities for NoLo development, with many home-grown brands seeing global attention. This growth has seen traditional drinkers opting for NoLo alternatives on select occasions, as well as an overall shift to healthier lifestyles and moderation. With drinks-orientated occasions playing a key role in Australian social life, a shift to adopt healthier alternatives without compromising flavour or sociability is set to change the narrative around drinking culture In Australia as we know it.
Why Equity Crowdfunding?
Equity crowdfunding allows Monday and Lunae's customers to join in the fantastic growth prospects of Higher State Co., and see the business scale to new heights. Customers and investors alike who resonate with Sam and Haydn's purpose-led brands, can be co-owners in the Company. Join them as they disrupt and revolutionise the drinks space in Australia and continue crafting innovative, non-alcoholic RTDs. 
Key Team Members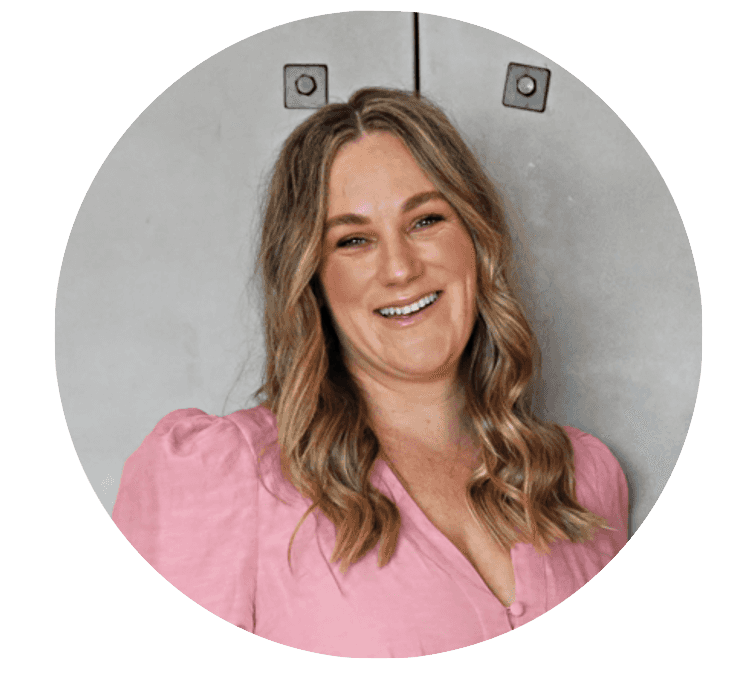 Samantha Manning
Co-founder, Product Developer, Director
Sam started her career in the drinks industry with loose leaf tea and then moved into the 'functional beverage' space with the inception of Lunae Sparkling. It was the appetite for Lunae Sparkling that ultimately led her to creating Monday Distillery. Her passion for flavour profiles, experimentation and product development has guided her in the non-alc drink space. A lifelong learner Sam feels the future of this category, and Monday Distillery, is a bright one.
Haydn Farley
Co-founder, Sales and Operations, Director
Haydn Farley was poached by Sam and after 20 years working across many roles in the fashion industry. Having spent most of his time working with the independent market, he values strong relationships with a win-win mindset. He is well travelled with extensive experience across trend forecasting, manufacturing & sales of women's apparel (loves a spreadsheet). Haydn's friendly yet meticulous approach is perfect for Monday's socially conscious market.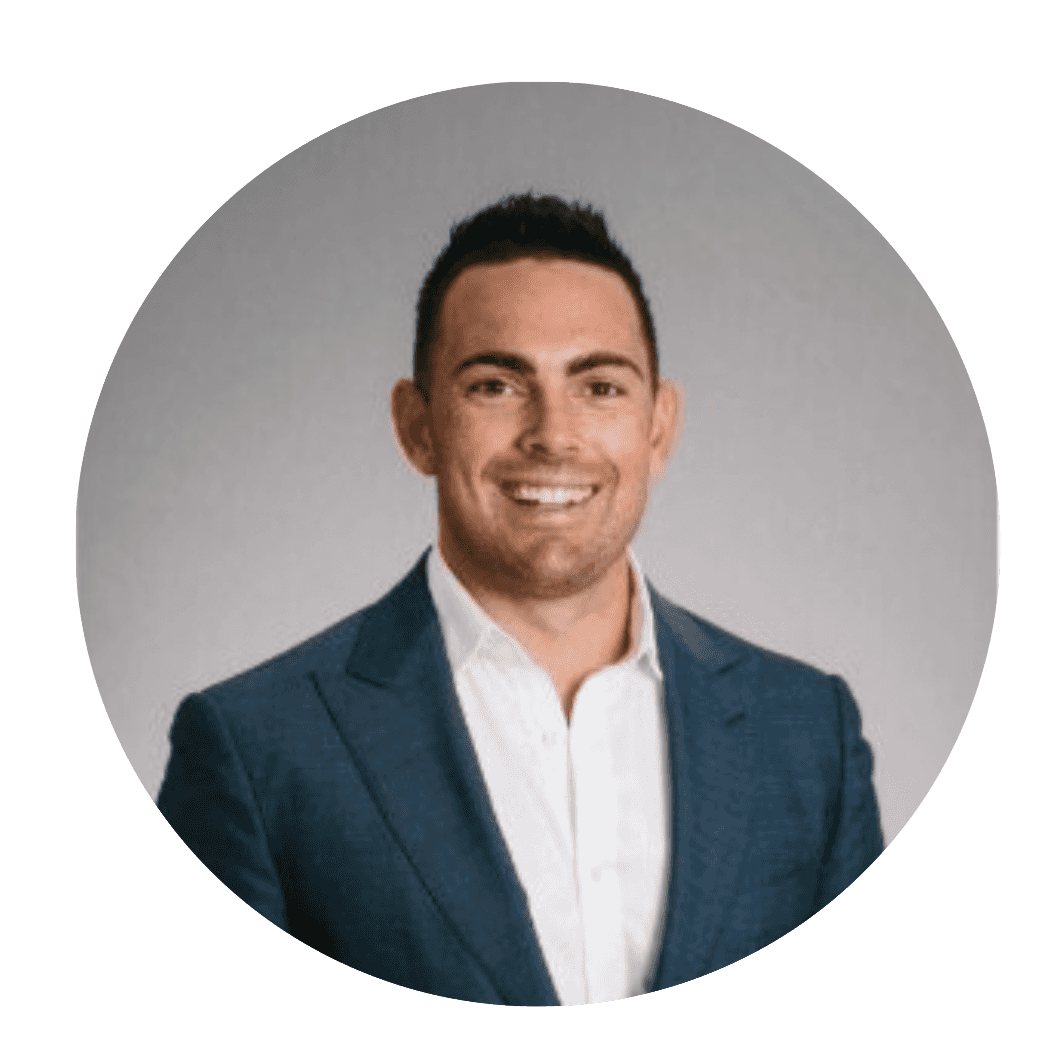 Ashley McMillan
Board Advisor, Consult Group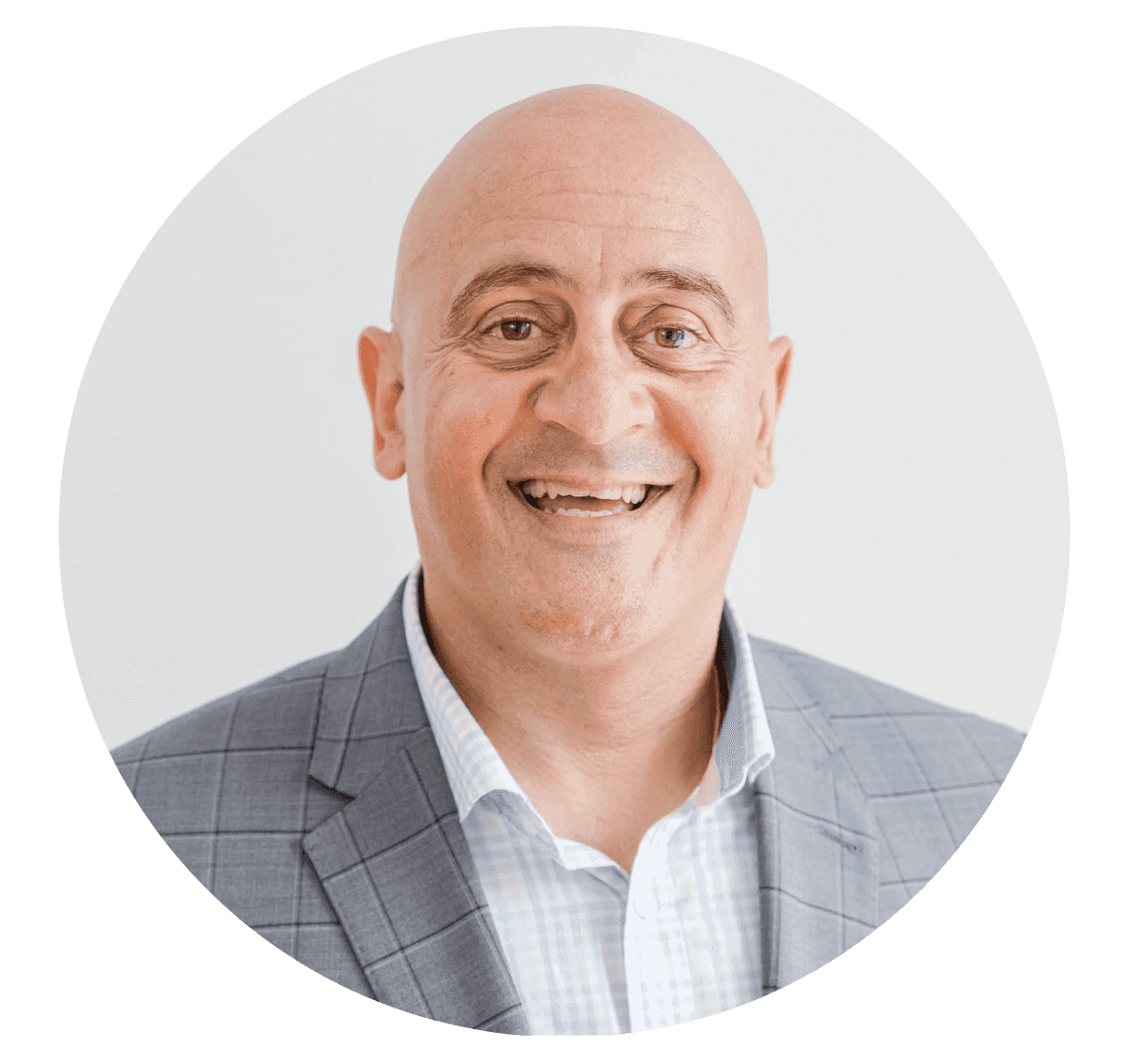 Theo Foukkare
Board Advisor, CEO at Australian Association of Convenience Stores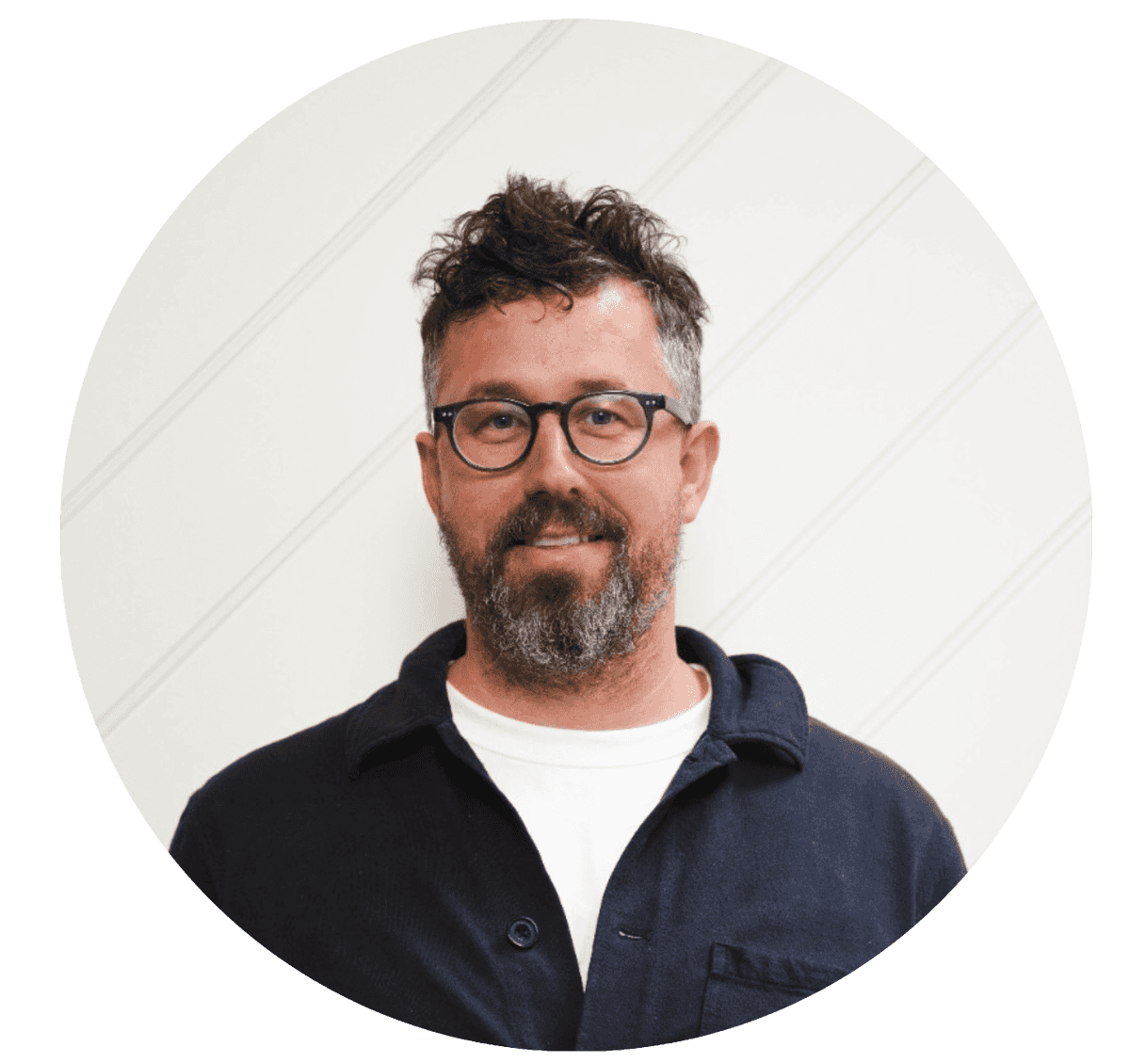 Ian Hammond
Digital Strategy, Hamma Digital

Tim Page-Walker
Manufacturer, Drink X

Courtney Smith
PR and Marketing
Financial Information
For more information, please see Section 2.12 of the Offer Document.
Key Risks
For more information, please see section 2.14 in the Offer Document.