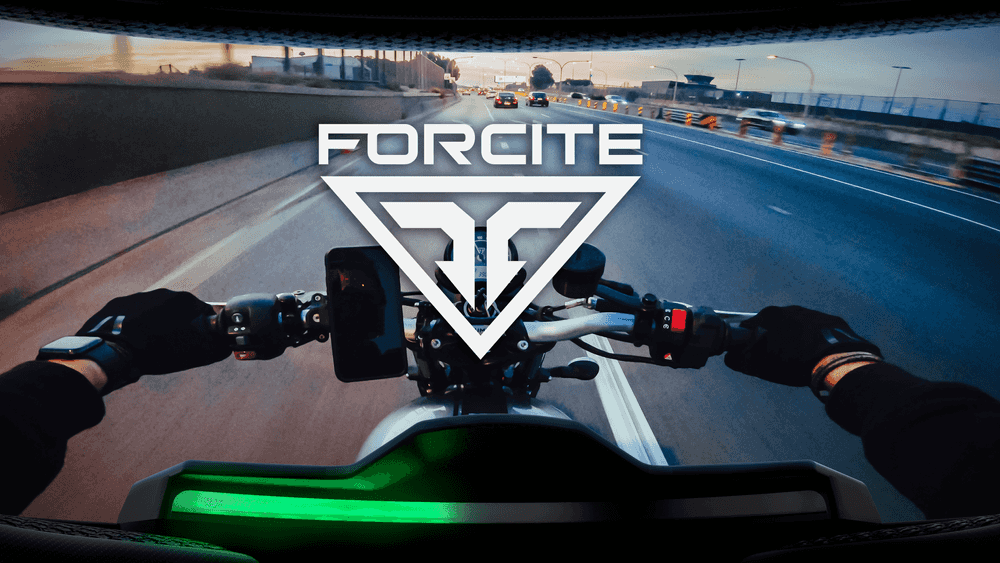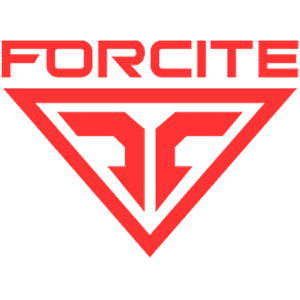 Making motorcycle riding safer with patented smart-helmet technology.
What is Forcite?
Forcite is a technology company that has created the world's first smart motorcycle helmet with ECE 22.05 (EU/Australian safety standard) certification, patented visual alerting system, integrated camera and audio technology. 
The company was born out of first hand experience, where in 2013, biking enthusiast Alfred Boyadgis took a fall going through an oil slick, injuring his knee. It transpired that the camera mount had smashed the side of his helmet compromising the protection to his head. Aside from bolt-on devices not being designed for helmets, the thought did strike him that given modern, sophisticated camera, sensor and tracking technology like we see in luxury cars, we should surely be able to anticipate such hazards. This would allow riders to take evasive action before they become a danger.
Together with fellow industrial designer Julian Chow, the two founders quit their jobs and set out to create a system from the ground up; one that not only provided superior protection, but also reinvented the riding experience for the better. Employing the help of their local, and eventually the Australian riding community during the development stage and beyond via a private Facebook group known as the "Forcite Test-Pilots" that would ultimately peak at over 8,000 riders, the pair finally developed a unique system that could successfully foresee hazards well before they were encountered, significantly improving rider safety. To date the team has raised over $8 million from grants and VC funding, and in 2020 the Forcite MK1 smart helmet was delivered to market in mass production form.
Forcite has achieved strong traction to date, having shipped over 1,300 smart helmets in Australia, and has a register of interest of over 13,000 individuals with approximately 50% being Australian, and over 21% coming from the US, and growing rapidly by the day.
They are currently making preparations for the launch of their new product, the MK1S, a facelifted version of the MK1 featuring numerous upgrades and refinements driven by user feedback. To support the launch, Forcite has partnered with a leading Australian ecommerce web development and design agency and expects to be going live with a premium new website and online campaign, taking online orders again by the end of Q1 2022.
The global market for premium helmets is currently a US $1.9 billion per annum opportunity and growing rapidly. Forcite produces one of the only smart helmets in the world with both safety approval and 4 patents (1 international, 2 prov and 1 PCT), and the ambition to own 20% market share within the next five years making it a billion dollar business. The founders are product design experts, and their vision is to release 5 new styles of helmets and in-bike computer vision systems with vertically integrated insurance in the next stage of product development.
The funds raised will allow for additional inventory and investment to expand sales internationally next year, as well as accelerating new partnerships and hires from leading brands.
"The company aims to provide a safer, more dynamic motorcycling experience no matter what or how you ride, by collaboratively pioneering the industry's newest and most advanced integrated technologies."
The Forcite Product
The Forcite product currently consists of a three-layered ecosystem; A custom server/software system that gathers information and passes it on to the mobile app, which acts as the interface and control room for the hardware aspect that is the helmet and bluetooth controller. Forcite utilizes a unique helmet design that focuses on seamlessly integrating technology whilst ensuring safety, design efficiency and ease of use for riders whilst on the road.
The most unique and innovative feature of the MK1 helmet system,"Forcite RAYDAR", a peripheral LED light array with light sensing technology, is patented and transmits information about upcoming road events such as speed traps in the area, traffic and weather updates, speed warnings, and navigational instructions. Future product iterations will see the inclusion of blind spot and collision warnings to be delivered to the rider whilst they are at speed through light patterns and audio signals.
Some of the core functionality of the Forcite MK1 product ecosystem includes:
Investment Highlights
Market validated, with ECE certification

Forcite has gone through rigorous safety and customer feedback before launch to market, with their product designed by riders for riders. Forcite has achieved strong market validation amongst its customer base, and has formed strategic partnerships with a helmet manufacturer and a Tier 1 motorcycle brand. Likewise, it has been granted the ECE 22.05 certification demonstrating the quality of the product and the commitment to rider wellbeing. 

Patented technology creates defensibility and differentiation

Forcite has patents for its hardware and software technology and safety mechanism, which provides legal defensibility against 'copycat' products. This ensures Forcite can preserve the uniqueness of its brand, standing out within the marketplace as the original smart helmet in the world, and continue to deliver its value proposition.

Rapid traction and market validation

To date, Forcite has sold over 1,300 helmets across 2 controlled releases. The first saw 1,000 units sold out within 3 weeks, the second saw 300 units sold out within 4 days. Having a unique and innovative design that addresses rider demand for quality, comfort and advanced technical ability, Forcite's helmets have grown in popularity through word of mouth and private riding groups run by its customers. This has created a loyal following in Australia and strong interest from the US, with a current register of interest consisting of over 13,000 potential future customers.

To coincide with the upcoming launch of their new product, Forcite also plans to rapidly grow their presence in the market via digital marketing campaigns, industry media outreach, and collaborations with respected influencers/content creators. With plans to expand overseas and extend the product range beyond just helmets, Forcite intends to become the global standard for delivering a safe and dynamic motorcycling experience.


Strategic partnerships driving scalability, distribution and sales

Having partnered up with a leading helmet manufacturer, a Tier 1 motorcycle brand and industry experts, Forcite has already built out their production line and QC set up with 95% yield. This is scalable and ready to meet expected customer demand. This investment will assist in accelerating advanced manufacturing in Australia with an assembly line capable of shipping units over a thousand a month. The helmet has also been featured in several of Australia's leading industry publications and collaboratively marketed with major dealerships around the country. This publicity has built Forcite's brand recognition, and attracted new customers. These strategic partnerships will allow Forcite to continue to develop new innovative iterations of its helmets, grow distribution and drive sales.  

Clear growth roadmap across verticals

As part of the next phase of growth, Forcite is scheduled to release five new styles of helmets and their very own modular on-bike/in-bike computer vision/lidar/radar system that will communicate directly with the helmet. This is being developed with the assistance of ex-engineers from AGV, McLaren and Yamaha.  Service models such as vertically integrated insurance, crash replacements, and 'Helmets-as-a-Subscription '(HaaS) solutions are in the growth plan. Funds raised will be used to expand inventory, increase brand awareness, and start sales internationally next year.

Team, advisors and investors

The founders have 26 years of combined experience in technical design and commercialising products. They are supported by a dedicated team of software and hardware engineers along with advisors and production experts who have joined the shared vision of the firm since day one. Forcite  currently has fifteen full-time staff in Sydney. Angel investors, grants and VC such as Uniseed capital have invested $8M in Forcite, providing invaluable support and the capital required to fuel growth.
Market Opportunity
Globally, there are 377 million motorcycles in the world, with 47 million being premium motorcycles. The global motorcycle gear and accessories market is valued at US 35 billion, with 7.2% CAGR over the forecast period 2021 to 2028.  Key markets like Australia, New Zealand, Japan, USA and the EU make up $1.9B per annum of sales internationally on premium helmets valued over $750USD. Forcite is confident they can be the market leader in this space comparable with major brands within five years. The industry is forecasted to be driven by higher disposable incomes, increased rider adoption of cutting-edge technologies, customisation and eco-friendly alternatives. However, the rapid growth of the motorcycle market around comfort and luxury has correspondingly increased the risk of road accidents for riders, becoming a limiting factor as riders are demanding greater safety.
Forcite aims to target the premium motorcyclist market, whose owners have the propensity to spend for premium gear and accessories, by positioning itself as a safe high-quality smart helmet product. Forcite's partnership with a Tier 1 motorcycle brand will drive premium brand association, increase sales, and enhance rider safety beyond the safety features embedded within motorbikes.
Why Equity Crowdfunding
We have chosen to raise capital through equity crowdfunding to give our customers and partners a chance to become shareholders. Since day one, Forcite was designed by riders for riders, and our earliest supporters were other rider enthusiasts who shared in our vision. 
It made sense to allow our earliest supporters the opportunity to become co-owners in the business, to help drive our growth and ensure we remain community-focused. As the brand grows, we hope to allow these investors to share in our future success.
In summary, this money will help us to buy additional inventory and ship our products internationally.
Forcite will be holding in-house events to show potential investors a sneak peek at new models, how the helmets are made and share their vision in the near future for those who are registered. If you are interstate, Forcite will be holding a webinar.