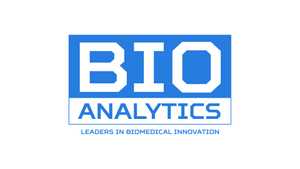 Round Max: AUD$600,000
Offer Live
BioAnalytics
This offer is exclusively open to wholesale, sophisticated and accredited investors.
The minimum investment for this offer is $4,945. BioAnalytics has already secured pre-commitments. The company has previously raised $2.5m+ in previous rounds.
Security Type

: Equity

Minimum Investment

: $4945

Pre-money Valuation

: $7,300,000
Company Overview
BioAnalytics is an Australian Medtech company focused on addressing the significant unmet clinical need experienced by sleep apnea sufferers by making sleep apnea treatment affordable, comfortable to wear, clinically proven and effective.
Existing therapies can be prohibitively expensive and uncomfortable with 40% of sleep apnea sufferers non-compliant with their existing therapies. With 8.4% of all people suffering from sleep apnea, the global market is projected to reach $9.9b by 2026. iSlpr ® is BioAnalytics's world first, patented device that seeks to solve this growing issue of non-compliance by providing a life changing solution to sufferers. 
The company is led by Warren Bingham, a leading Medtech and innovation expert that was recently awarded the Medical Technology Association of Australia Outstanding Achievement Award for 2021. BioAnalytics also proudly manufactures the iSlpr ® in Australia.
With Australian and New Zealand regulatory approval already received, the funds from the raise will be used to launch sales and marketing activities in ANZ in H1 2022. It will also support initial sales and marketing research for product commercialisation in the UK, Germany and France with market entry planned for H2 2022.
The team are planning a potential IPO in 36-48 following strong market penetration across Australia, Europe and the USA.
Key Investment Highlights
Large and growing addressable market

8.4% of all people suffer from obstructive sleep apnea (OSA) and require treatment. This equates to over 66m people in the US, EU and Australia alone. Existing therapies include continuous airway pressure devices (CPAP) or mandibular devices (MAD), however over 40% of users become non-compliant within the first year and stop using their device. This can have serious long term health implications for individuals and places a growing economic health burden on society.

ANZ regulatory approval received

The team has already secured Australian regulatory approval from the Therapeutic Goods Authority (TGA) and New Zealand MedSafe approval. This significantly de-risks investments, and enables commercialisation and sales to commence within the ANZ market in H1 2022. Rapid expansion internationally with the EU targeted for H2 2022, and the US in H1 2023.

Clear path to exit built on strong financial performance

Conservative forecasts will see revenue of $320k in FY22 with Australia the primary market. As regulatory approval is received in the EU, UK and US over the coming 12 months, expansion into those markets will see revenues increase to $4m+ in FY23. There is a clear path to exit with an IPO targeted for 36-48 months from the current raise at which point sales are expected to be ~$36m with a global footprint across Europe, USA and Australia.

Product innovation pipeline

The product roadmap includes the world first integration of biosensors to provide real time measurement of airflow, sound and positioning. This will be supported by a mobile app and cloud storage to provide measurable feedback to users and health practitioners on patient improvement and progress.

Strong product margins

Initial levels of production will see iSlpr® generate a gross product margin of 51% with higher production levels projected to improve that figure to 79%. These high margins can be achieved by partnering with a leading engineering and manufacturing company, Romar Engineering, who have deep experience across medical device commercialisation and technology.

Expert team and advisers

The executive team have senior management experience across leading medtech device companies such as Resmed, Given Imaging, Clinical Genomics and Pentax Endoscopy. Managing Directory Warren Bingham has also chaired AusMedtech and has been influential in the Australian innovation landscape through the Cicada Medlab accelerator and his involvement on the board of various exciting medtech startups. He was also recently awarded the Medical Technology Association of Australia Outstanding Achievement Award. Leading sleep and respiratory physician, Associate Professor Anthony Sasse, sits on the board and provides leading clinical expertise and guidance