You've heard of Kickstarter? Equity crowdfunding is similar, but when you fund projects on Equitise, you get a stake in the business. It's a great way to throw your support behind amazing businesses. Equitise is the leading investment platform in Australia & NZ which partners with innovative early-stage businesses running equity crowdfunds or wholesale offers and IPOs.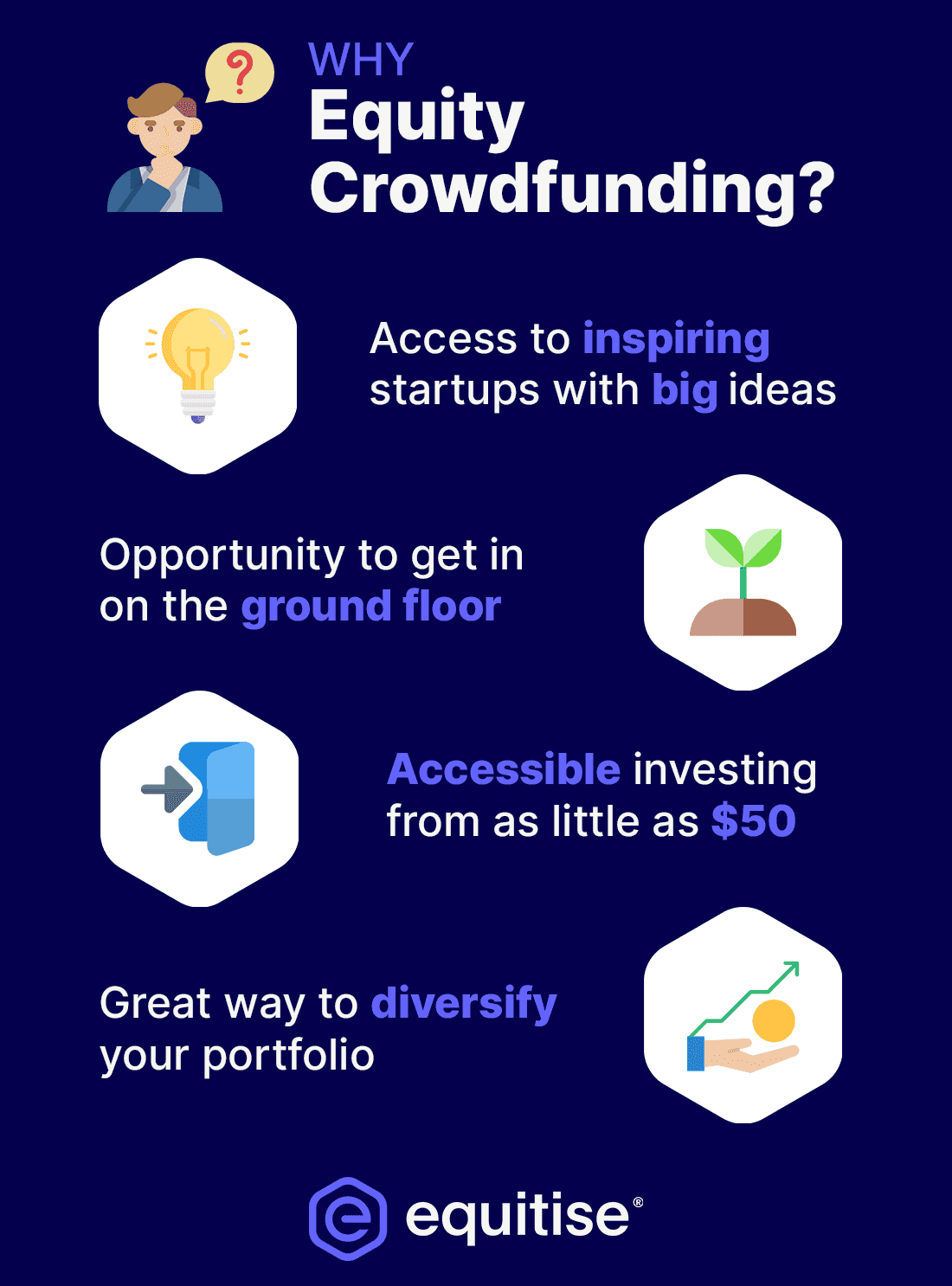 For more on the benefits, read this article.
Who Can Invest? Basically Everyone!
Retail Investors - A retail investor is any Aussie or NZ resident who is 18 years or older. You can invest as little as you want, or as much (up to the value of $10,000 per company per year in Australia).
Wholesale/Sophisticated Investors - Anyone around the world who meets their country's accredited investor requirements. For instance, in Aus, it's anyone who has earned over $250,000 for the past two years or has more than $2.5 million in net assets. These investors are able to access a wider range of opportunities with no investment limits. For more information, please read this guide.
How Will I Make A Return On My Investment?
There are several ways in which you can make a return on your investment including IPOs, buybacks and dividends.
The exciting thing about investing in private companies is the potential for high returns as the company grows. There are a number of ways you can make a return that you can learn more about here. Since these companies focus on growth and are not yet listed, it'll take a little longer for an exit opportunity to arise compared to buying public stocks. This means it's often a longer-term investment.
Is Equity Crowdfunding Safe?
There is more uncertainty with early-stage businesses which naturally leads to greater risk, however, there can also be greater return as you're getting in on the ground floor when the share price is low. The industry is heavily regulated by key government authorities to protect investors as much as possible and investing through our online platform is secure. We also have our own standards in place and our analysts work hard to provide a flow of high-quality and highly-vetted companies. We can't always pick winners but we always pick companies we think have the brightest of futures.
We advise four key things: 
Only invest what you can afford to lose.
If you can, invest in startups and early-stage companies as a way to diversify your portfolio. Even out the risk, but also maybe the return, by investing in more established businesses as well.   
Do your research. You can be sure we do ours, but it's still important you understand the business you are looking at investing in, which is why there is a comprehensive offer document.
Be prepared to be in for at least the slightly longer term. These investments are not yet liquid and it can take several years before you might realise a return.
You can learn more about the safety of equity crowdfunding here.
Invest In Your First Startup Today!
Nevertheless, the benefits and excitement surrounding equity crowdfunding are huge and we've made it easier than ever for you to make your first investment. In fact, the process only takes a few minutes and is totally secure.
If the offer isn't yet live, register your interest so you get first dibs when it does open
Create an account with Equitise 
Under your profile section, verify your identity using your choice of identification (read why we need to do this here)
If you're a wholesale investor, update your investor status under your profile, download the form, and get your accountant to fill it out
Once live, head to the offer page of the business you wish to back and click invest!
See our latest offers here!