First, in the series of blog articles on the Australian drinks industry, we explore the craft beer phenomenon and why our investors love owning shares in the hottest craft beer brands…
Key Takeaways
The craft beer industry in Australia growing at 10% CAGR, represents an almost a billion dollar industry, and still has room to grow when compared to markets such as the US and UK
Growth drivers include the continued experimentation of styles, the push into taprooms, growth of low/ no alcohol and potential international expansion
Crowdfunding and craft beer work well together; all its about engaging a community around a product and passion
Australia has recently seen some record-breaking craft beer fundraises (Batch Brewing, Spinifex) including in non-alcoholic beers (Sobah, Heaps Normal)
We see continued activity in the space, as well as broader infrastructure
Introduction
In spite of years of strong growth and some impressive exits, the craft beer revolution in Australia is still on an upwards trajectory and there's never been a better time to get behind your favourite craft beers.
The story of how the craft revolution began is well known; beer-lovers turned home-brew enthusiasts experimenting with their own flavour combinations and brewing methods and evolving into small-scale and low volume breweries. The result? Unique and innovative flavour combinations and styles, using local ingredients and traditional brewing methods.
Craft beer in Australia is now almost a billion-dollar industry, with up to 1,000 breweries nationwide (although some value the wider industry at over $2bn, given the high labour intensity and employment). Craft beer is now part of mainstream culture, with events such as GABS100, seeing huge press attention and following.
Whilst some of the larger craft breweries have since been acquired over the past decade (including Stone and Wood last year), there is a tail end of independent breweries building communities around beers — the essence of the craft movement. In a market where drinking in moderation is favoured, a combination of heavy marketing spend by the corporate-backed craft beer brands (we won't get into a debate whether that still makes them craft…) and a loyal following from fans of the independents is driving the strong market growth in the craft beer segment. That said, the market is still in a relatively early stage (c.14% craft beer revenue penetration out of the total beer market, 10% of volume) versus more mature markets such as the US (c. 24%).
This article covers some of the main themes in the Australian craft beer landscape and what Equitise looks for in its record-breaking fundraises for craft beer brands.
The Craft Beer Landscape in Australia
Traditionally, the Australian beer market has been highly concentrated and largely produced for local taste and consumption. The major players in the industry include Asahi (owners of CUB), Lion Nathan (owned by Kirin) and Coopers. Whilst overall beer consumption in Australia has declined in recent years, the demand for independent beer brands is increasing, and craft beer continues to take market share.
There are a number of craft breweries owned by larger groups, including multinational drinks companies and craft beer groups operating multiple labels such as Mighty Craft. Whilst they are able to capture most of the retail shelf space and on-premise tap space, they are also bringing in new enthusiasts to craft beer through big marketing budgets and awareness. As uniquely different brands, they serve to bring new enthusiasts to craft beer…as the saying goes, a "rising tide raises all ships".
The continued growth of craft beer is characterised by passionate craft beer makers and home brewers, together with more discerning beer drinkers and consumers who are demanding a more distinct, flavourful and higher quality product. This has increased focus on drinking for flavour and authenticity as well as "drinking local" and building personal relationships with preferred brands. The trend is evident in a long term shift in consumer tastes, which is driving an expected increase at a CAGR of up to 10% going forward.
Craft brewing is all about experimentation and smaller, independent breweries are nimble enough to quickly work with new and different styles, raw materials, recipes and flavours. Indeed, there is a huge range of styles and flavours for consumers. Fruited sours, session IPAs and XPAs are popular go-to's in the craft space, with an ever-increasing demand for 'sessionable' beers, including the growing 'no and low' alcohol trend. Equally, high quality, independent versions of classic styles such as lager are seeing strong offerings from craft brands like Hawke's, Yulli's and White Bay.
During the COVID-19 pandemic, the industry has faced unprecedented challenges as the forced closure of retail outlets, pubs and restaurants limited sales channels for many breweries. As home consumption rose sharply, there was a shift to long-standing value beer brands, as well as a major swing to beer cans (vs bottles). The pandemic emphasized the importance of having strong distribution channels, including an online presence.
Nevertheless, the IBA grew in membership over the course of the last year, and with a supportive regulatory environment (such as the increase in excise rebate last year), the number of breweries looks set to increase further. Looking ahead we see 3 key themes shaping the industry…
Trends Driving the Growth of Craft Beer
1. Continued expansion into venues
Expanding into branded and proprietary venues, including brewpubs or taprooms, allows craft beer brands to build awareness, strengthen their customer loyalty as well as being a higher profit margin route to market. With crowded off-premise shelves and competitive tap space in on-premise locations, proprietary venues allow craft brands to showcase new releases as well as get closer to the customer, creating an easier, less intimidating experience.
Peter Phillips, the former Chair of Independent Brewers Association (IBA) recognises this and says:
"The growth of indie brewers is testament to the fact that consumer demand is driving growth … Australians want greater connections to community, to the people that make beer and to their local meeting places."
This will also drive beer tourism in areas with several breweries or those of particular standing that can attract visitors from afar, such as in Marrickville in Sydney or around Hahndorf in South Australia.
2. No and low-alcohols
A broader moderation trend and the 'better for you' movement is driving demand for low carb, low calorie, gluten free and also low and no alcohol options.
It is telling that in January 2022, Heaps Normal broke records by coming in at #20 on the GABS 100 countdown, as the first no/ low alcohol beer to do so. The category is certainly booming, according to the 2021 IWSR Drinks Market Report, 'no and low' alcohol volume is expected to grow by 16% between 2020 and 2024, with a study revealing 71% of Aussies intend to increase or maintain their no- or low-alcohol consumption this year. Other brands such as Nort (Modus Operandi) and low alcohol beers such as Brick Lane Brewing's Sidewinder, a low ABV hazy pale ale, are also doing exceptionally well.
3. Taking Australian craft beer global
Mirroring the arguable success of other Australian beer exports such as Fosters, Australian craft beer is ready for the global stage.
Currently, the industry has a low export rate (around 5% of sales) primarily because relatively few of the brewers have achieved the scale to make export cost-effective and more mature markets such as Uk and US already have homegrown beer brands with local presence.
However, there is a huge potential opportunity to export, in particular to Asia Pacific. For example, Mountain Goat (backed by AB InBev) has been exporting to Asian markets for over 5 years, and Moondog, the Melbourne based craft brewer, has also opened up a venue in Singapore. Spinifex Brewing, who raised with Equitise in 2021, saw export as a big growth channel, and was already shipping to markets in Europe, Japan and South America.
Craft Beer M&A Activity
Craft beer M&A has been driven by the traditional beer and alcohol players trying to capitalise on market growth and adding brands to their portfolios, in a trend that has been seen in other markets such as the US and UK. In Australia, multinational alcohol giants such as Carlton & United Breweries (owned by Asahi) and AB InBev have made a number of acquisitions of successful craft breweries including Balter, 4 Pines, Pirate Life, Green Beacon and Mountain Goat.
These transactions typically see attractive multiples paid to buy up the culture and ethos of smaller brands that the big players can't create themselves, such as the beachside community identity of Balter, founded by 4 professional surfers including Mick Fanning. Whilst there are many critics of such transactions, the marketing and distribution benefits bring an overall net benefit to the craft beer movement.
In Sept 2021, Lion (owned by Japanese multinational, Kirin) paid more than $500m for Australia's largest independent craft brewer — the Byron Bay-based Fermentum, parent to brands including Stone & Wood, Two Birds and Fixation. This shows even the biggest craft brewer has a suitor and can be convinced to give up its independent roots for a price!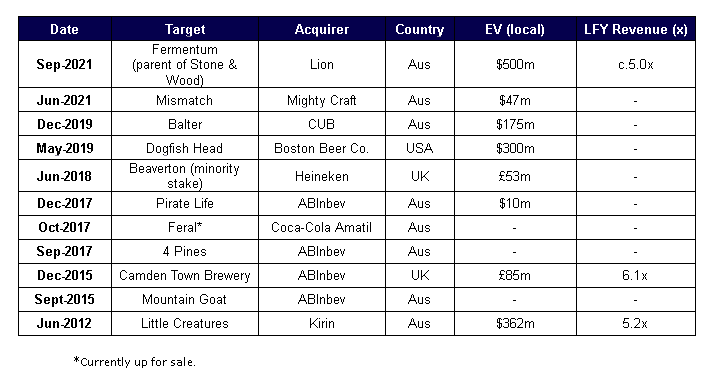 A list of acquisitions within the craft beer industry
Craft Beer Crowdfunding Activity
Craft brewing has a tremendous track record in crowdfunding, largely in the UK, but increasingly in Australia and New Zealand. For the brands themselves, the reasons for raising are obvious: building a legion of brand ambassadors to strengthen the customer relationship, in line with the community value of craft brewing, whilst also raising capital for growth. The marketing from a craft beer crowdfund is very powerful, especially if you are looking to launch new releases or venues.
But why do investors rally around their favourite brands?
Investors in crowdfunds are in part driven by emotion. The pride of owning shares in a brewery that you can point out in a bottle shop or tell your mates about at the pub is a big draw. Customers resonate with a particular brand and investing in the parent company is the next step along from drinking your favourite beer.
Equally, the passion and cohesion that comes with being part of a community of like-minded investors is a powerful rationale to invest. Arguably the pioneers of the investor community are Brewdog, who have been through successive fundraising rounds, raising almost AU $57m, to fund their global growth.
Ultimately, investors are seeking a return, and craft beer has a strong track record for doing well for early investors on exit, whether IPO (e.g. Gage Roads) or M&A (per the examples above).
One of the most successful examples that has yielded returns for crowdfunding investors was Camden Town Brewery. After raising £2.8M from 2,172 investors in 2015, at a valuation of £50m, they were acquired by AB InBev later the same year for a whopping £86m, giving investors a sizable return.
So in our experience of launching back-to-back record raises in Australia, what makes a successful craft beer crowdfund, and what do investors look for? It comes down to 3 main factors:
1. Community
Crowdfunding is all about engaging a community around a brand, so it is imperative that your new investors feel part of an exclusive club. By treating the new investors with frequent updates on business performance and strategy, as well as the all-important investor rewards, you can harness a legion of loyal brand ambassadors. It is also great to see breweries come back to crowdfunding for repeat raises and leverage their investor community, such as Blackhops who raised for a second time in Jan 2022.
Batch Brewing Co. closed an Equitise-led $1.5 million equity crowdfund in less than two days of being public, by leveraging its deep community ties. Their focus on building local hubs resonated with their loyal fanbase and allowed them to break records in their raise.
Adam Barnard, the co-founder of Spinifex Brewing Co. who broke the record for the largest craft beer raise in Australia in 2021 said
"Business has always been about our community… the power of people is well recognised as our greatest strength".
2. Valuation
There are some very steep multiples and valuations out there so it is important to understand the drivers of valuation. Investors are ultimately looking to buy shares at a reasonable valuation, be part of a growth trajectory and then see those shares exited at a higher valuation.
Based on what we have seen in broader sector comparables (M&A and other fundraises), up to 3–5x multiple on last financial year revenue is sensible (the higher the growth, the higher the multiple in some cases). In our view, this gives room for up rounds or attractive returns on exit.
3. Growth
Increasingly we are seeing breweries wanting to crowdfund alongside a taproom or new brewery launch, which we think is a great way to bring new investors on the journey. Brewdog was one of the first to use crowdfunding for this strategy and now have expanded globally to hotels and even a proposed rooftop bar on the Las Vegas strip.
We have found that having a robust, multi-stage growth plan goes down well with investors, particularly into higher-margin channels like taprooms. It's a competitive space, so quite often there is a balance between aggressive growth and keeping the craft label brand equity.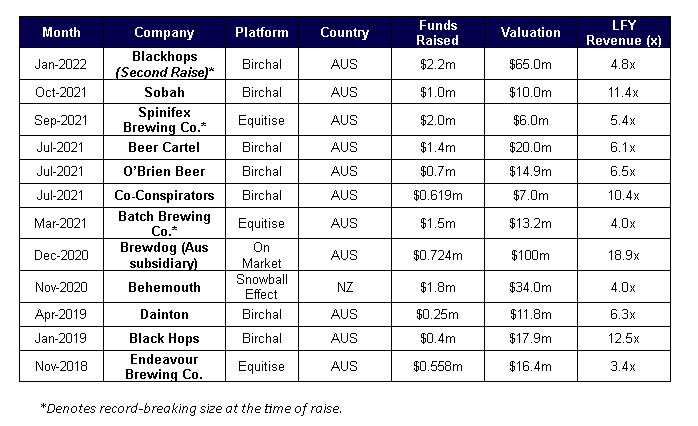 A list of craft beer equity crowdfunding campaigns in Australia and NZ
Conclusion
The craft beer growth trend in Australia shows no sign of slowing down with new breweries and continued experimentation driving supply. As seen with the sale of Stone & Wood, there is also still scope for craft brands to be snapped up albeit losing the spirit of independence that the industry promotes.
On the fundraising side, with crowdfunds in the craft beer space getting larger and seeing huge levels of demand, the winners will be those with a stand-out proposition, a reasonable valuation and a compelling growth story. We also see activity in supporting sectors, such as online marketplaces, equipment, tech and infrastructure (Konvy Keg's recent $30m raise is a great example of this).
Looking forward, all eyes will be on the first exit in the space and the returns it may yield for crowdfund investors!
If you are a brewery and are considering fundraising in 2022, reach out to the Equitise team and we can walk you through what a process might look like.
Equally, if you are an investor looking to own a share in our next craft beer raise, subscribe to our newsletter and be the first to hear about our next craft beer raise! Simply put in your email at the bottom of this page and join 50,000 others in getting first dibs on our new offers!