2022 was a massive year for us here at Equitise. We hired some fantastic people, worked with some inspirational businesses…and hit a few new PB's! 
Although many of us are already knee deep into 2023, we just wanted to take a final moment to reflect on 2022 and share with you a little of what we got up to.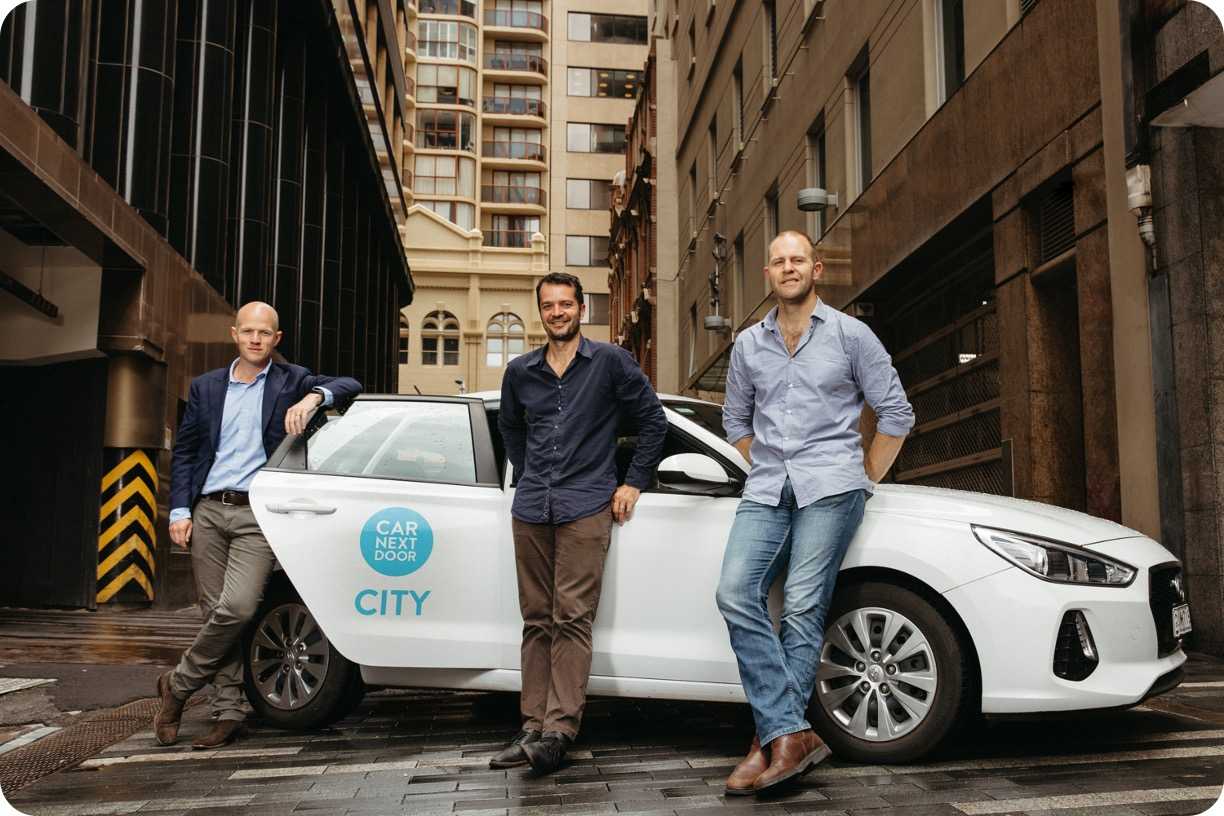 Off with a bang
With the news that Car Next Door (Equitise alumni) had been acquired by Uber, our year got off to a tremendous start! Equitise raised $1m+ for Car Next Door over 2 raises in 2017 and 2019, so the acquisition was a terrific outcome for the company and the 45 investors that invested through our platform. 
2022: A year for breaking records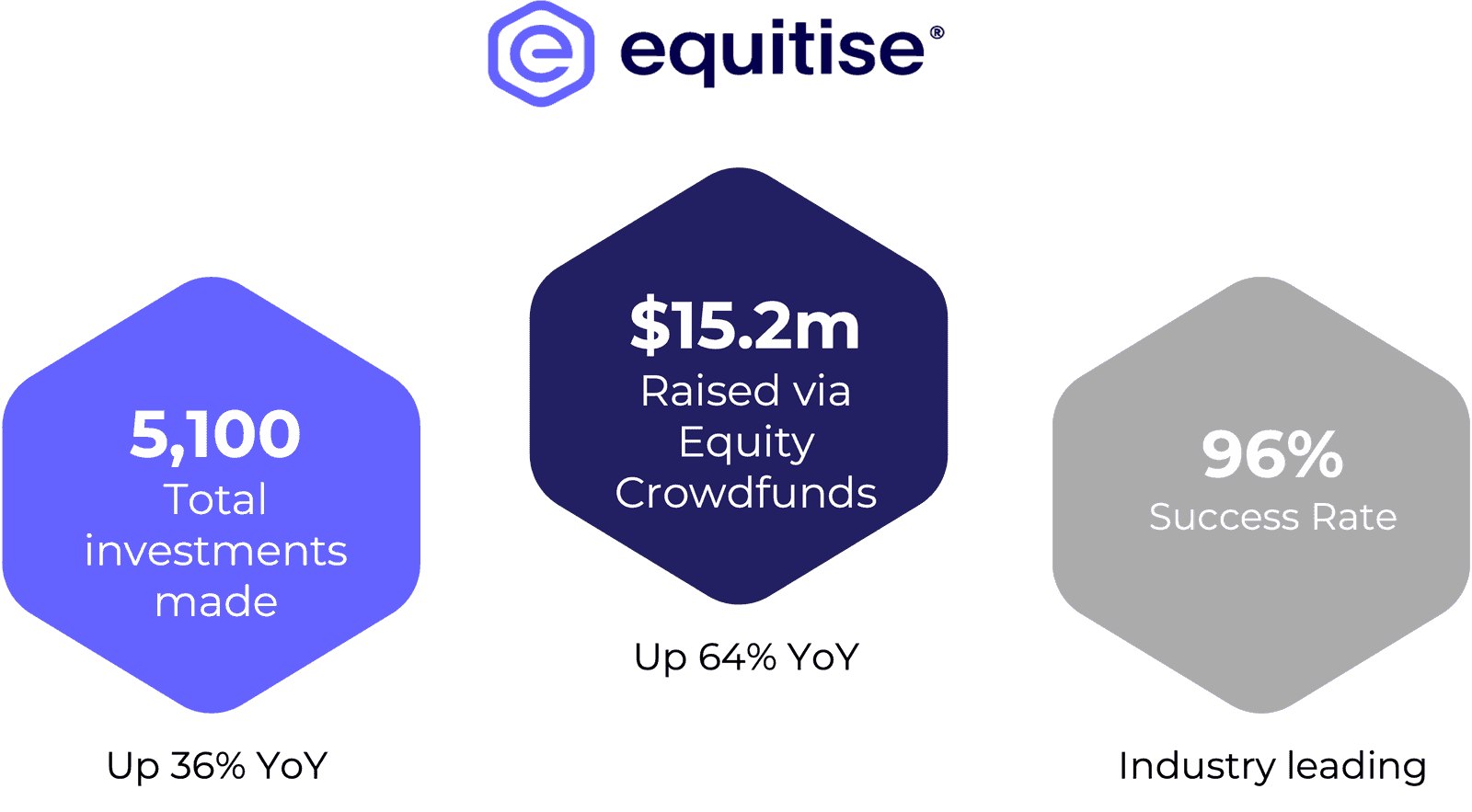 Equitise was the only major Equity Crowdfunding platform in Australia to grow in 2022 across total funds raised, number of investments AND the number of $1m+ raises! We completed 17 successful ECF raises in Australia raising a total of $13.2m. In New Zealand we had 2 ECF campaigns raising $1.9m. Finally, we saw $500k come from our wholesale-only raises.
In total we raised $15.7m, which is an Equitise record for a calendar year and saw 45% of all our raises secure $1m+ from investors (8 in total).
The Australian ECF sector saw $73m raised across all platforms, up marginally from $71m in 2021. We welcomed the entrance of two newcomers, Microwd and Swarmer who had a total of 6 successful campaigns between them.
Even with these new entrants, Equitise still saw our market share grow to almost 19% in Australia (up from 12% in 2021) - an impressive achievement against a challenging environment to raise capital which we are very, very proud of.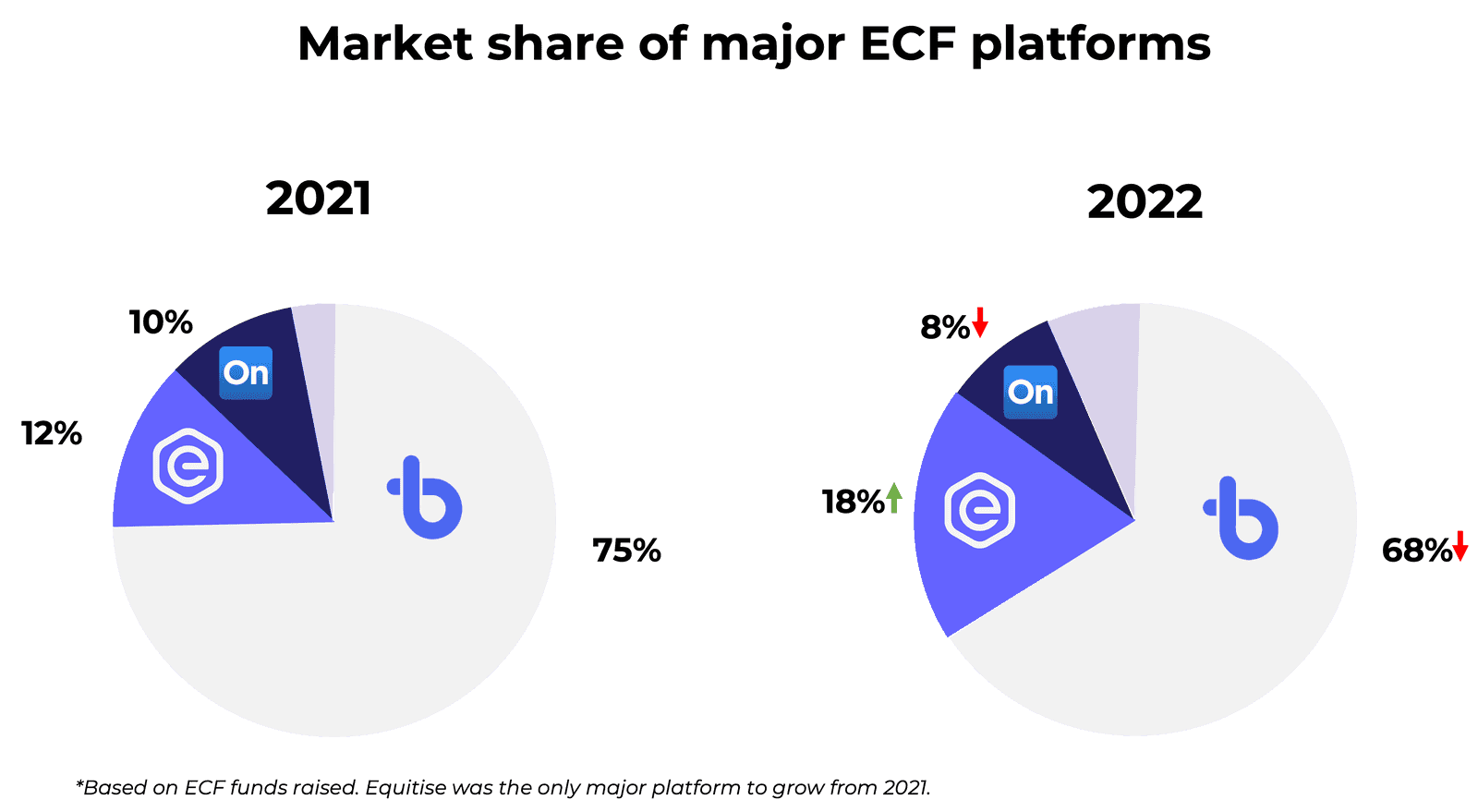 The Equitise difference
At Equitise, while breaking records sounds impressive - they're not what makes us unique, and they're certainly not why we do what we do.
2022 saw us continue with our differentiated approach to fundraising. Our customer focussed service is personalised, hands-on, and in the best interest of both our portfolio of companies as well as our investor community. We believe in quality, consistency and transparency with a long-term view to value creation for all stakeholders.
More than just a platform, at Equitise we engage actively with our clients to help prepare all elements of the offer. From building investors decks, engaging with wholesale investors, advising on valuation, preparing high quality offer materials and assisting with marketing, communications and PR. 
We had an industry leading success rate of 96% in 2022 which is a testament to the efficacy of our approach. We also had nearly half of all our raises (45%) raising more than $1m, continuing the trend of raises getting larger YoY, now averaging just below $800,000.

Fair and reasonable valuations
We have always focused on fair and reasonable valuations for companies raising via Equitise, and this year was no different. Not only is this in the best interest of our investor community, but our companies as well.
In 2022, the median revenue multiple for growth stage companies (with $500k+ turnover p.a) that raised on Equitise was 4.3x, and our average was 5.7x.  Our higher average was driven by our $1.3m Forcite round, where the price of the round was set by lead investor, Uniseed Capital. A terrific example of us providing our investors an opportunity to invest alongside a leading Venture Capital firm at the same valuation.
Whilst we saw the multiples of companies raising on other platforms come down in 2022 (in some instances by nearly 50%) from previous years, they were still significantly higher than Equitise, averaging 9.2x.
In line with broader sector trends, the Equitise average multiple was also trending downwards from 6.2x in 2021. We anticipate this trend to continue in 2023 in line with the broader market.
It goes without saying that lower valuations benefit incoming investors. But they can also benefit companies. Over-priced valuations can lead to issues down the line such as potential down rounds, loss of shareholder trust and trigger anti-dilution clauses should a company have investors with these rights on their cap table. A long term view to a company's capital raising strategy is always recommended, particularly in a challenging environment such as that of 2022.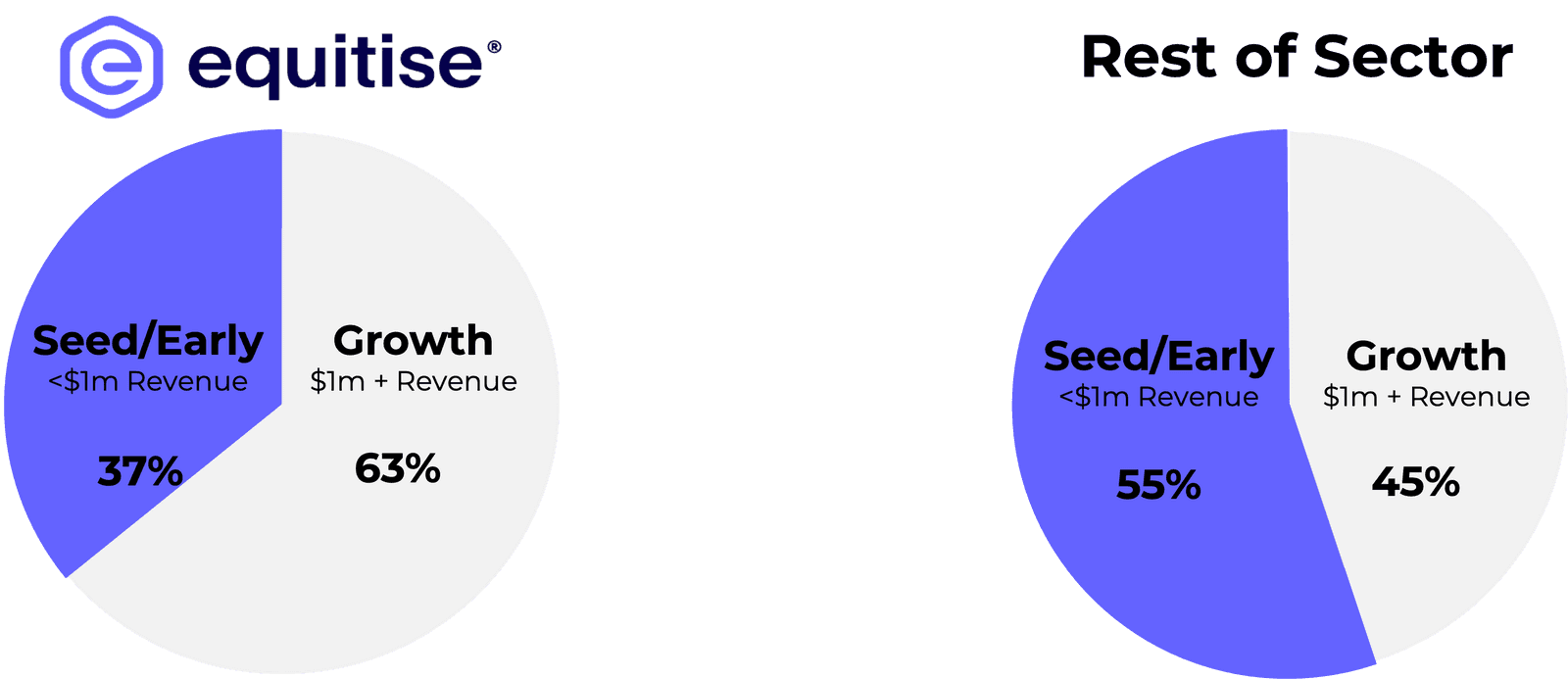 Later stage companies
2022 saw an increase in later stage, 'growth', companies raise on Equitise compared with prior years. 63% of all companies that successfully raised with Equitise had revenue of $1m+ (in the previous financial year) - up from 43% in 2021.
This compares with ~45% for the rest of the industry.
We expect this trend to continue as the sector follows in the footsteps of more established overseas markets such as the UK, and companies increasingly leverage Equity Crowdfunding to complement other sources of growth capital.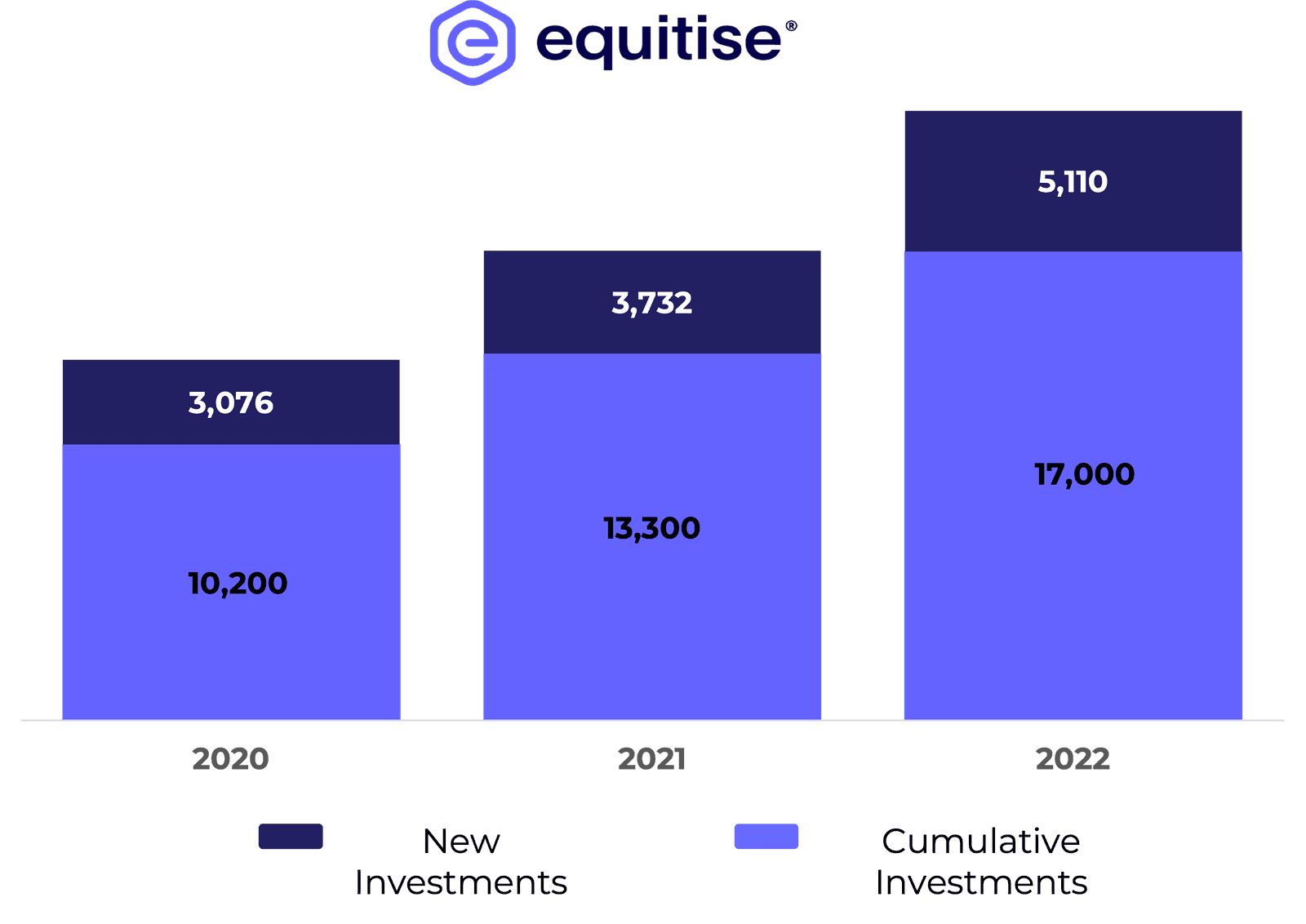 Our growing community
We hit a milestone with our investor community this year too, as our database surpassed 60,000 with over 22,000 investments to date. At 5,100 investments we hit a new record for most investments in a single year. We have now seen our cumulative investments grow 130% in the last 3 years.
Participation from sophisticated investors in our Equity Crowdfunds has also continued to increase YoY, with the number of investments from these investors increasing 49% from 2021, and accounting for nearly 45% of total funds raised in 2022. 
Providing retail investors the ability to invest in high growth, exciting companies on the same terms of Family Offices, VCs and well-known Angel investors is core to our mission at Equitise.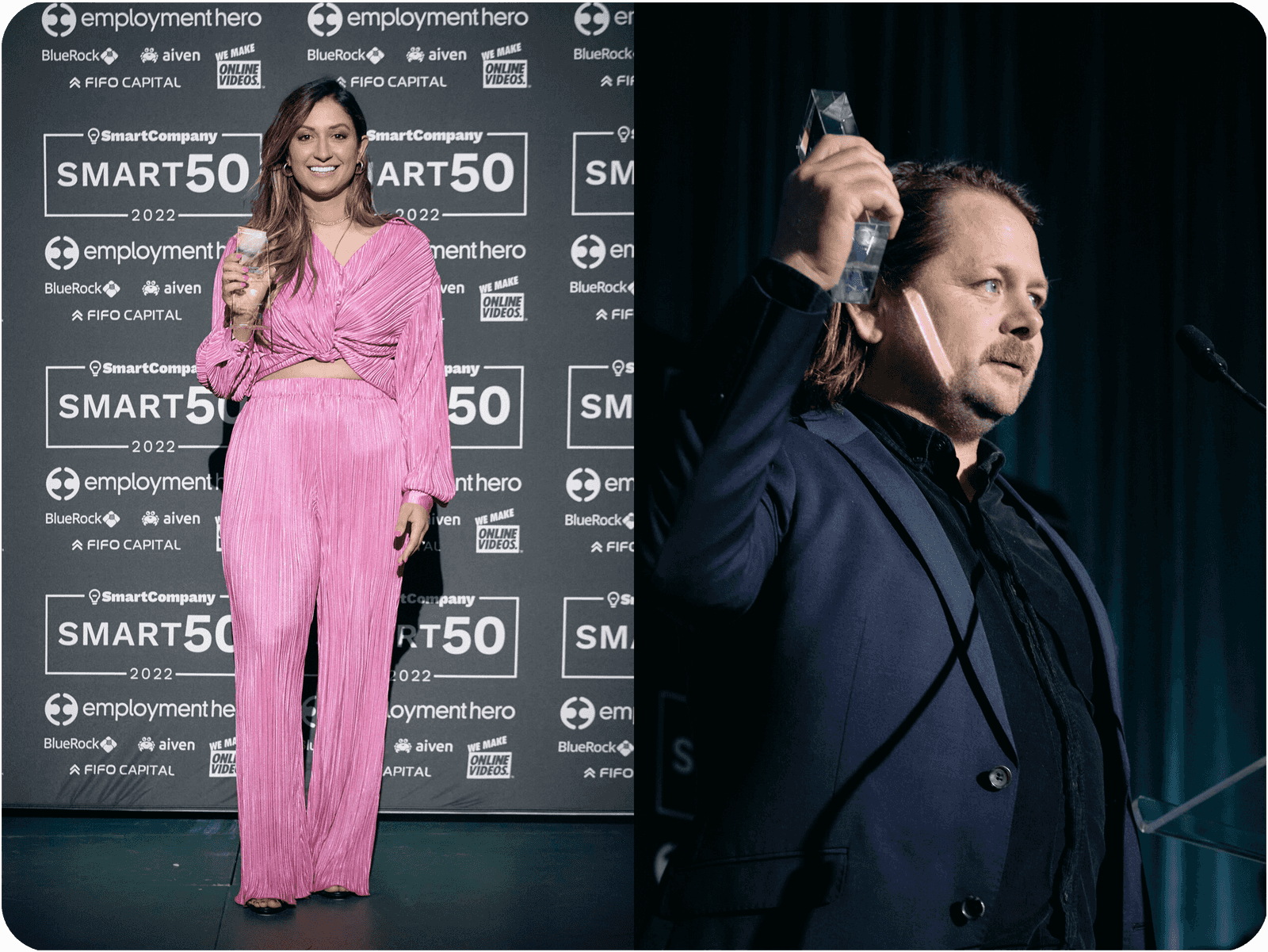 Portfolio success
Equitise portfolio companies cleaned up this year at the SmartCompany Smart50 awards with Hero Packaging, Mad Paws and Monday Distillery all winning in their respective categories. Mad Paws and Hero Packaging also placed 4th and 13th respectively in the overall fastest growing companies. 
Earlier in the year, Hero Packaging had won the best B2B retailer at The Australia Post Online Retailer Industry Awards.
Readiitel returned in November to raise $1,053,999. The company has grown revenue nearly 400% since their original raise in 2019, and is now consistently profitable with $500k EBITDA achieved in 2022 as it marches towards a potential IPO in late 2023. With a 250% valuation uplift from their original raise in 2019, the company has demonstrated an ability to create strong shareholder value.
Monday Distillery became the most successful non-alcoholic beverage CSF raise with $1,012,250 raised from 479 investors. On the alcoholic beverage side, Batch Brewing acquired Bucket Boys, and Akasha launched a new venue in Leichhardt to feature their barrel aged beers and acquired a new venue up in Newcastle following their successful $1.75m raise in June.
Urban Plant Growers not only maxed out their $1m round, but were awarded UTS Startup of the Year.
We also saw Lumiant secure a $3m Investment from US based Savant Wealth Management ($13b AUM), to fuel expansion across the US.
Looking forward
We have some incredibly exciting offers to bring you in 2023 along with some Aussie Equity Crowdfunding firsts. If you are a company looking to raise capital please reach out, we would love to find out more and understand how we can help.
If you are investor, stay tuned!