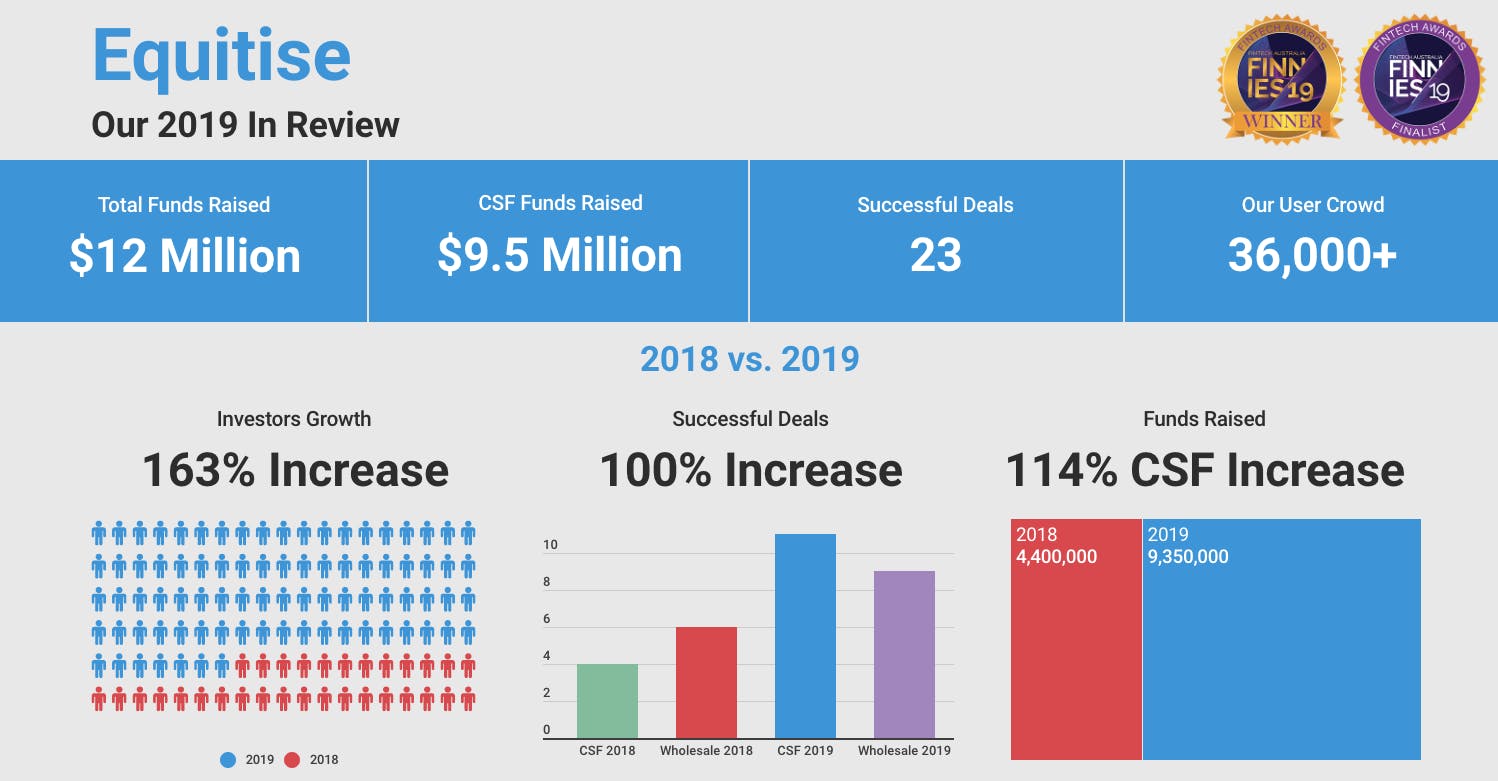 What a year it's been here at Equitise! As the next decade fast approaches, we're taking a look back on everything we've achieved over the last twelve months, and the lessons we can take with us into the new year. 
This year marks the first full year everyday Aussies could invest in early stage companies. In 2019 so far (ReadiiTel is still live until 9pm tonight) we've raised $12 million from more than 5,000 investors. $9.5 million came from equity crowdfunding in AU & NZ, while another $2.5 million was raised through wholesale deals. We've raised capital for 24 companies which is an increase of 100% compared to 2018, something we're really proud of and a positive indication of where equity crowdfunding is heading in Australia.
A few offer highlights:
Xinja - In 2018, the neobank Xinja was the first company to raise capital through equity crowdfunding and in 2019, almost a year to the date, they returned and were the  first company to undertake a second equity crowdfund. Xinja went on to raise another $2,573,970 (515% of the minimum funding target) at a share price of $2.04 on top of their initial $2,779,000 (556% of minimum) at $1.25. A whopping 1,543 investors got involved and helped Xinja to hit their minimum in the first day the offer was live! 
Rhinohide - Rhinohide was another double raise success story in 2019. The Perth-born 4x4 body armour startup hit their $500,000 maximum funding target. With numerous investors disappointed they missed out, the Shark Tank success story opened up a second round the following week, raising another $161,250 in seven days from the crowd, boosting them towards their USA and Asia expansions. 
Sofi Spritz - This Bondi-born ready-to-drink cocktail brand enjoyed a wildly successful raise with Equitise. Aiming to bring their Australian version of the Italian aperitivo to the wider market, Sofi raised $641,448 from 320 investors and was featured in over 50 press articles over the duration of the campaign. Expect to see this Summer beverage in a store near you soon!
It was also great to see Equitise alumni Xinja, Goodments, Car Next Door, GoCatch, DCG and Maker&Son return to raise capital at higher valuations along with Retirement Income Group returning for its fourth time. 
Some businesses won't raise the money they need via equity crowdfunding. This year it was three fantastic companies: Urbotanica, The Clean Collective and Purahealth. Like all forms of raising capital, success is never guaranteed, and ultimately with equity crowdfunding it's up to 'the crowd' to decide. 
However Equitise and these three businesses have learnt from these failures, taking invaluable lessons on board for next year. Some of these include the importance of pre-funding to ensure there is momentum in the offer from day one, the presence of strong press and the benefit of launching an offer as quickly as possible to maintain the interest of those who have registered to hear more. 
So with that we wish you a very Merry Christmas and a Happy New Year! Thank you for being a part of the Equitise community and we look forward to bringing you more in 2020. 
Now for some fun. Businesses that only came about in the last decade... if you can believe it: 
Snapchat - Founded in 2011, this app is now worth over $20 Billion on the NYSE.
Instagram - After this photo app's founding in 2010, Facebook acquired it just a couple years later for $1 Billion.
Canva - An Australian startup founded in 2012, Canva is now valued at over $3 Billion.
Tinder - First released in 2012, the infamous dating app is worth around $10 Billion.
Best articles of 2019 
Best consumed on the beach with a cold drink in hand