Our friends over at SODA Inc have commandeered our blog to announce this year's Wintec Innes48 Business Startup Competition. NZ's largest of its kind, the 48-hour event offers a platform to connect with like-minded entrepreneurs, mentors and industry experts.
SODA Inc is a business incubator doing great things for Kiwi entrepreneurs and innovators. We're excited to see the businesses and ideas that are showcased at this year's event. 
The 2016 Wintec Innes48 Business Startup Competition is fast approaching. This weekend's event sees 15 teams and over 80 participants from across New Zealand compete, create and execute business propositions in just 48 hours.
"Just one weekend can have a lifetime of impact. If people choose a career in entrepreneurship because of an event like this, then the impact is astronomical. We are talking about multiple businesses, many jobs, and significant value creation. The energy you get from this event, the optimism and the excitement, you go back to your work station and you are flying." Mick Liubinskas - 2015 Innes48 Speaker & Co-founder of Pollenizer
"Innes48 was literally a life changing experience for me. It exposed me to more business experience within one weekend than i've had over years. Competing with so many like minded entrepreneurs and having such smart mentors that were so willing to help you out was amazing. I left the innes48 with so much knowledge, many connections and feeling more empowered than ever to one day start my own successful company." Abbie Naylor - 2015 Innes48 Participant
Reflecting on last year's event we had some key learnings:
Flearn
Fail + Learn = Flearn
During the opening ceremony, the teams, judges, mentors and guests were entertained and inspired by a stellar line up of guest speakers, including Australian Startup Guru, Mick Liubinskas. He and his colleagues at the Sydney based incubator Pollenizer created the term Flearn. The buzzword describes the process of embracing the learning's during failure to ultimately achieve success. In simple terms, the key steps for flearning are Experiment, Fail, Learn and Repeat. Mick believes every failure is valuable and the more times we fail, the more opportunities we have to do things better, as long as we learn from each failure! He also emphasised the need to flearn smarter and faster. By creating ways to fail faster and more efficiently, we save valuable time and money, and figure out how to earn more. A great tool to accompany this process is the Experiment Board (a by product of the Validation Board). This is a useful video to step you through how it works.
Focus
"Focus is the biggest differentiator between startup companies who get big and ones that die."
Shortly after Mick's talk on Flearning and before the 48-hour challenge officially kicked into gear, the participants were treated to more of his handy tips in a Find Your Focus workshop. Mick has gained the title of 'Mr Focus' due to his strong drive for starting small and fast, embracing failure on the road to success and avoiding entrepreneurial distractions. Speaking of distractions, this was a key topic in Mick's workshop. As entrepreneurs, we are ideas people unafraid to take on the world. Sometimes our enthusiasm for wanting to do more (/everything) does more harm than good and takes us further away from success. Mick encourages people who are starting up their new business to narrow their scope to avoid being "a mile wide and an inch deep". Focus means to pick one thing and do it well, Mick says. Mick admitted that "Focus is Hard" and that the gap between the starting point and reaching the big vision is the challenge, but focus will help you get there. "Lack of success relates to a lack of focus," so channeling this ultimately leads to better productivity and success.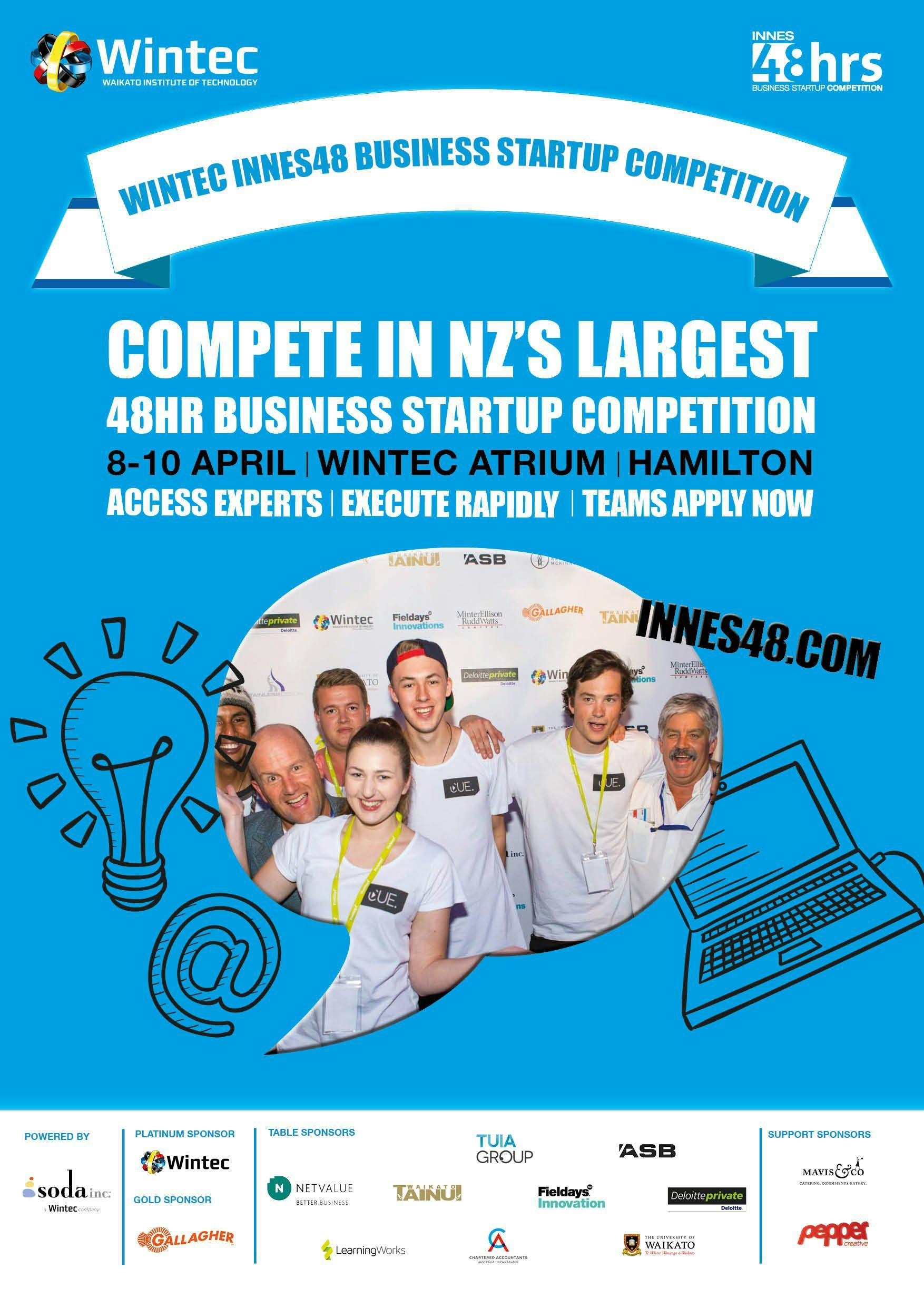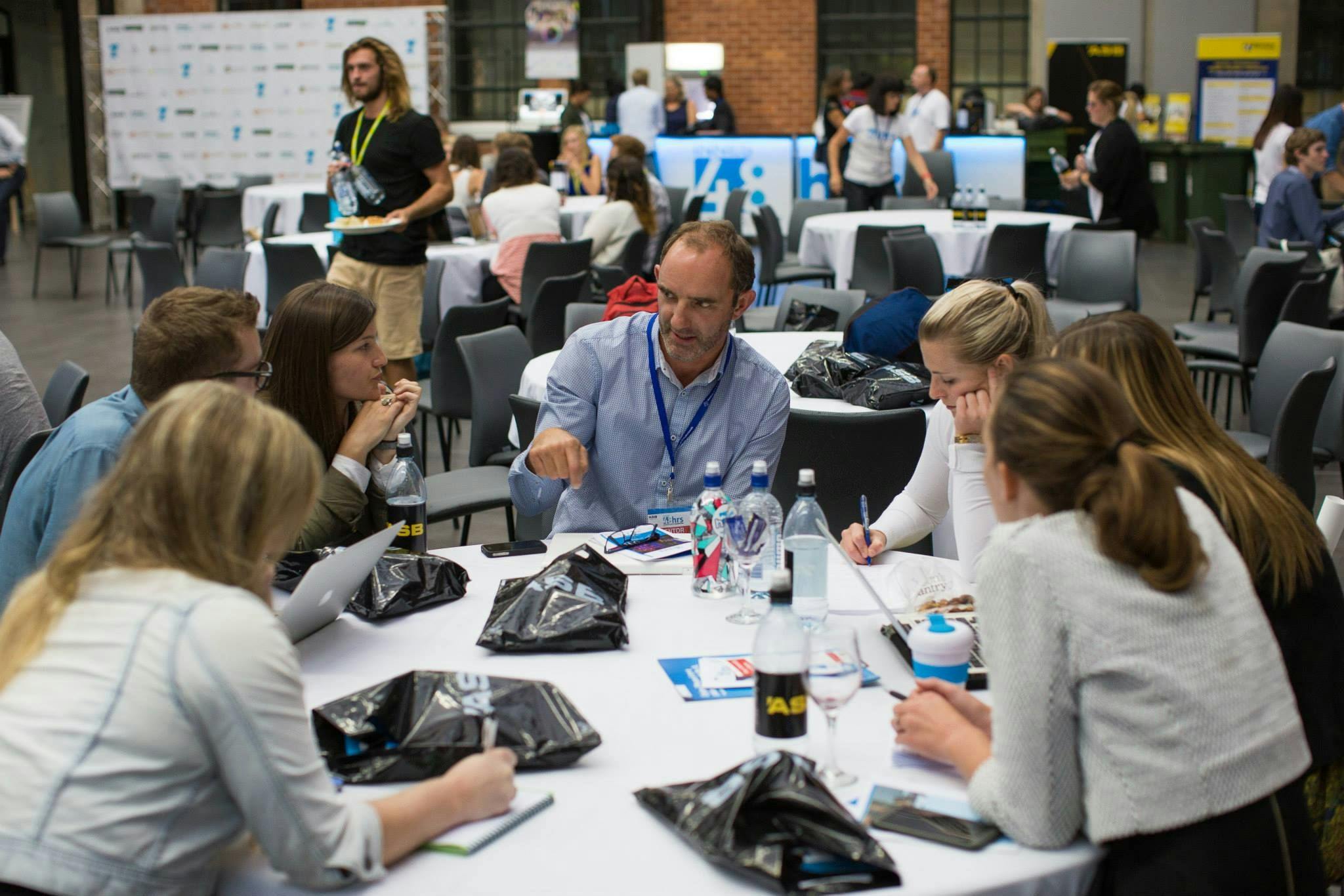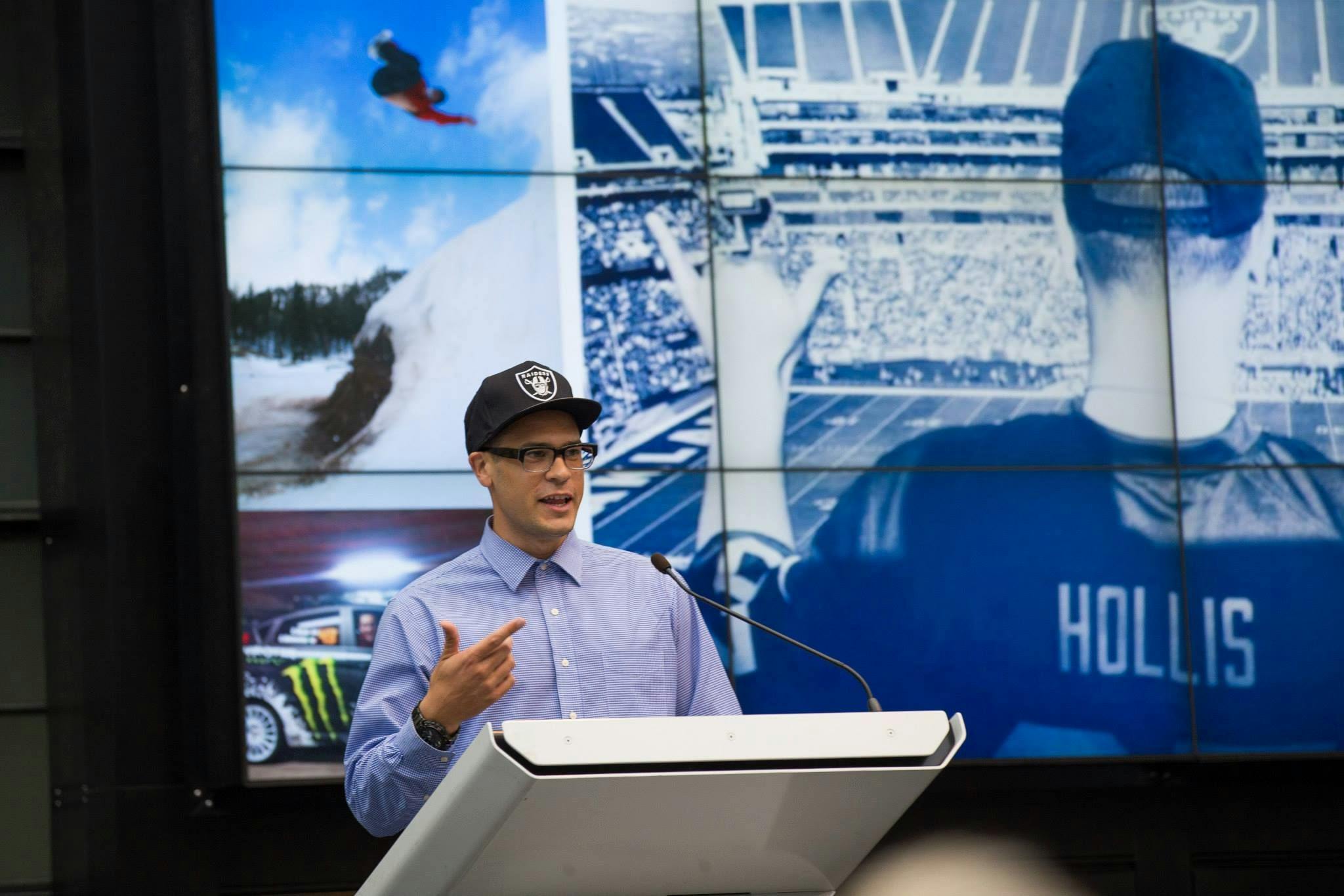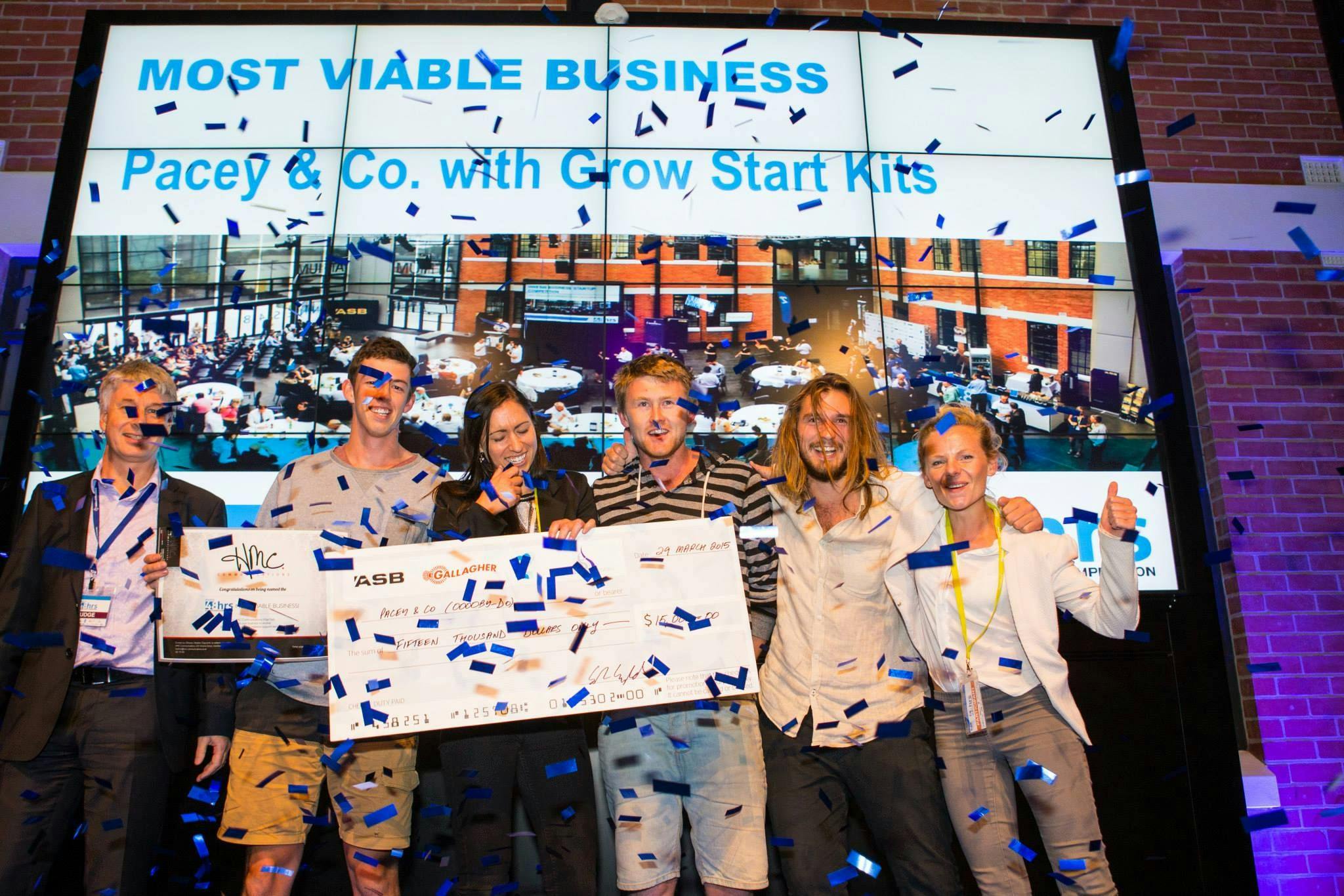 Business With Purpose
One of the highlights of the 2015 Innes48 was an inspiring speech from lifestyle entrepreneur Robett Hollis. His bio generated a lot of social media attention and in it, Robett tells us that while he was growing up on the dole in Aranui, Christchurch, he failed high school and got grades so bad that he couldn't get into any universities. He has no degrees and pretty much zero qualifications, except for a Diploma at Chicago's Hot Dog University where he passed with flying colours…. seriously.
Despite this, Robett is now a successful entrepreneur who owns several media interests including FRONTSIDE, a Video Production Partner for clients like Air NZ, Veuve Clicquot, Heineken, and an App development arm and NZ's Largest Action Sports Network complete with its own half hour TV show.
During Robett's speech, he touched on a topic that really hit home. In an emotional reference to how much he admired his wife who works as a paediatric nurse, he stressed that no matter how successful we may get, if there is nothing in our lives with real purpose, then life can be a bit meaningless.
"Always be passion driven and $$$ will be a by-product. If you chase $$$ first, you may get rich but I can guarantee you won't be totally happy. Pursue the passion - not the by-product" - Robett Hollis
He also talked about keeping things in perspective and not letting stress get the better of you. "At the end of the day, if you don't get that piece of work to the client, no one is going to die (only, doctors, nurses & surgeons have that problem), so think about that" he told participants.
Serial entrepreneur and professional company director Melissa Clark-Reynolds was the third keynote speaker at this years event. One of Melissa's most successful companies Fusion, a health and safety consultancy, became New Zealand's largest private accident compensation insurer. So business success is no stranger to her. Successes aside, Melissa also reminded us in her speech that business with purpose is important. She encouraged the participants to think about 'business with purpose' when starting or growing their companies and highlighted the idea that a business with purpose can lead to a personal sense of contentment as well as entrepreneurial success. Business with purpose often means the end business goal extends to something larger than your own success, but a success that can improve the lives of others.
To build a company with a powerful commitment to social impact often helps maintain motivation, momentum and growth within a team. A great example of a successful business with purpose is TOMS, a US shoe store whose business model features a 'one for one' process where for every pair of shoes purchased, an extra pair of shoes is sent to a person in need.
In Summary
The team at SODA Inc. (a founder focused incubator) have worked hard to build a neutral platform for participants to connect with likeminded individuals, learn business fundamentals, execute rapidly, win cash & meet experienced mentors.
Applications are open to all ages & experience levels. To give you an example, last year 42 teams applied and in those teams we had; Mums, Dads, Grandparents, Experienced business owners, Tertiary students, High school students and Internationals (applications came as far away as India).
The process to apply happens like this:
1. Get a team together (min 2, max 8)*
2. Submit your online application with a 60sec video (deadline is 3 April)
3. 20 teams will have an interview (4 April)
4. 15 teams will receive the Wintec Innes48 Grant and will be able to compete
5. Team Orientation (7 April)
6. Compete in Innes48 2016 at the Wintec Atrium, Hamilton (8-10 April)
*if you can't pull a team together but still want to compete please email [email protected]. We might be able to help you form a team.
For more info: http://www.innes48.com To apply: http://www.innes48.com/apply-now