It's been a rough year for most companies, with everyone affected by this pandemic in one way or another. Some companies have ridden the storm better than others, however, with the best being able to pivot their focus and position themselves even better for the future.
One of our past wholesale raises, Revl, has done just that. Revl raised $150,250 from a few wholesale investors back in 2017, and has since used those funds to further develop its technology and offering.
Revl makes video camera technology for experience companies such as rollercoasters, ziplines and skydiving. The cameras and their AI software allow operators to easily capture and provide video experiences to their customers, creating additional revenue streams and value. Based on the revenue Revl can generate for ride operators, it presents a very attractive proposition to strengthen existing offerings. 

The company generates revenue through the set-up and ongoing operation of video solutions, meaning that during the COVID-19 shutdowns across the globe, its revenue dropped to zero. However, having finalised its series A and after securing a $264,000 grant, Revl was able to ride the storm and focus its efforts on RnD. 
The most notable development was the completion of its Flow 2.0 system that combines Bluetooth beacon technology, radio-frequency identifications (RFIDs) and a self-checkout kiosk – lowering the cost of the entire Revl X system by 50%. These technologies have combined to create a magical experience for end customers whilst easing the strain placed on ride operators by efficiently managing a high-throughput system that can timely process and sell thousands of videos per ride per day. 
These developments alongside strong underlying management have accelerated Revl's 2020 growth predictions. With sales and deployments rising quickly and its current pipeline worth $3.5m in annual recurring revenue (ARR), Revl could see 2-2.5x growth for the year, despite the pandemic. 
Revl also expects to be profitable in Q4 2020 – Q1 2021 having recorded over 85% profitability margins on its recent video sales in coasters and ziplines, and even higher in its driving experiences. In fact, in September, three of Revl's coaster/zipline rides each generated over $245,000 in video sales for their customers in Zip world. Revl is able to generate $150,000-200,000 ARR per coaster – placing the company 8 coaster installations away from profitability.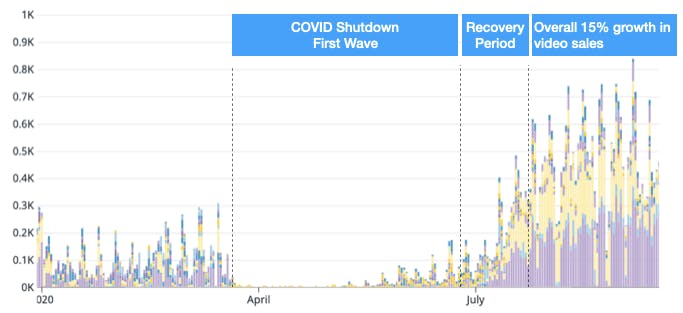 With experiences around the world reopening and the pandemic coming to an end soon (fingers crossed!), Revl is looking to continue going from win to win. Having focused on long-term initiatives and strengthened the underlying business throughout the pandemic period, Revl is now primed to scale and rapidly expand its innovative offering around the world.